Tesla Model S Plaid
Tesla, an electric automaker that often surprises the EV world is now ready with another surprising performance upgrade version. It is an upgrade of the Tesla Model S and the automaker names it as Model S plaid. Tesla claims that plaid is not only the quickest Tesla but also one of the quickest production cars. So, it's time to know more about Tesla Model S Plaid.
About Model S plaid.
Model S is undoubtedly the catalyst of Tesla's success and revealed EV potential to the globe. This is due to the invasion of the Model S into the performance sedan club which is an IC-dominated category until Tesla's arrival. Now, Tesla aims to take this impressive performance of Model S to next level by offering an upgrade as the plaid. 
Model S plaid interior
The interior of the Model S reminds us again about its performance. This is due to the steering which is in a rectangular shape. It appears as the combination of a steering wheel and a joystick from a gaming console. All the relevant information to the driver will be on the screen behind the steering wheel. 

Also, there is a 17″ infotainment display on the center of the dashboard which is compatible with wireless gaming consoles.
Technical Overview
Here are the interesting claims of Tesla about the Model S Plaid that can make Ludicrous mode a thing of the past. The acceleration of 0-60 mph is possible in 1.9 seconds (with rollout subtracted) with its tri-motor all-wheel drive. It can offer a top speed of up to 320 km/h and the range of the electric car is around 560km.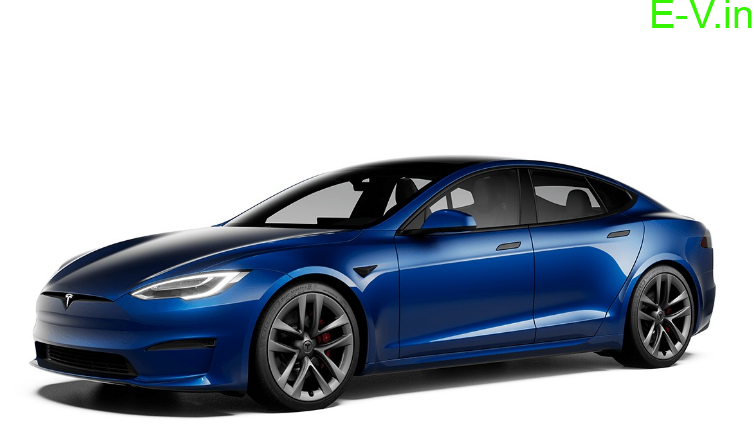 With these specification claims, Model S plaid overtakes the competitors on 1/4 mile drag race while offering a sedan comfort. Also, the Model S plaid will set a new benchmark again just like the Model S which has been a primary target for most of Tesla's competitors.
For more relevant information on Tesla, Please watch our videos below in English, Hindi and Telugu.
If you are an EV manufacturer or EV Dealer or EV Supporter who want to share news related to electric vehicles on our website, please send an email to crm@electricvehicles.in

For the latest electric vehicles news, follow electricvehicles.in on  Twitter,Instagram,Facebook and our YouTube Channels English, Hindi, Telugu and Tamil