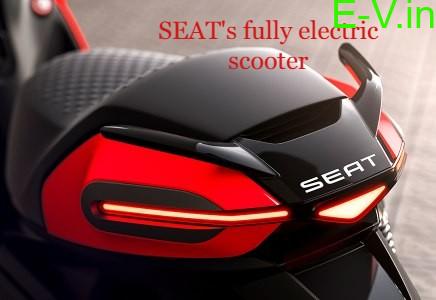 SEAT's fully electric scooter debuts on 19th Nov
You may have heard and seen the SEAT's electric cars till now but have you heard yet about its fully electric scooter? If not read further to know about SEAT's fully electric scooter. 
SEAT, a Spanish automobile manufacturer, a brand with a vision of electric technology application to vehicles for an urban two-seater or high-performance CUV (Cross Utility Vehicle). Its vehicles fulfil the mobility needs of individuals.
SEAT's fully electric scooter
It is now strengthening its commitment to urban mobility and breaking into the motorcycle market with its new first fully electric scooter concept.
The company will sell its electric motorcycle equivalent to a 125 cc model in 2020. The company will officially showcase its presentation on 19th November in Barcelona during the Smart City Expo World Congress.
This new model will be lined up in the company's urban mobility strategy which aims to offer sustainable solutions for cities.
The company claims that it will lead the Volkswagen Group (Spanish government sold SEAT to the German Volkswagen Group of which it remains a wholly-owned subsidiary.) micromobility strategy at the last edition of the mobile world congress.
This strategy also includes SEAT Minimo concept car as well as SEAT's eXS Kickscooter powered by Segway which was unveiled at the 2018 Smart City Expo.
SEAT President Luca de Meo stated that "the constant growth of large cities makes achieving efficient mobility one of the main challenges to overcome. Today we are taking a further step in our urban micromobility strategy by confirming the launch of the first eScooter in the history of the brand."
More eco-offerings of the company
SEAT is in the process of becoming a mobility services provider to the people and wants to expand in one of the major mobility trends of the future such as collaborative, shared, sustainable economy. It is already offering carsharing services through Respiro and in addition, is selling the SEAT eXS KicScooter which is available for sharing services through the start-up UFO as well.