The Greater Chennai Corporation (GCC) has collaborated with Pi Beam Electric to introduce e-tricycles in Chennai for garbage collection to make the job easier for conservancy workers. Pi Beam Electric is a company which is incubated at the IIT-Madras research park.
e-Tricycles in Chennai for garbage collection
The GCC has collaborated with the Pi Beam to introduce 14 Electric Tricycles in the name of Pi Beam E03 for garbage collection. Under the Corporate Social Responsibility project, State Bank of India came forward to fund these e-tricycles. The GCC will own and will look over the maintenance of the vehicles, whereas Pi Beam will be assisting in scheduling services.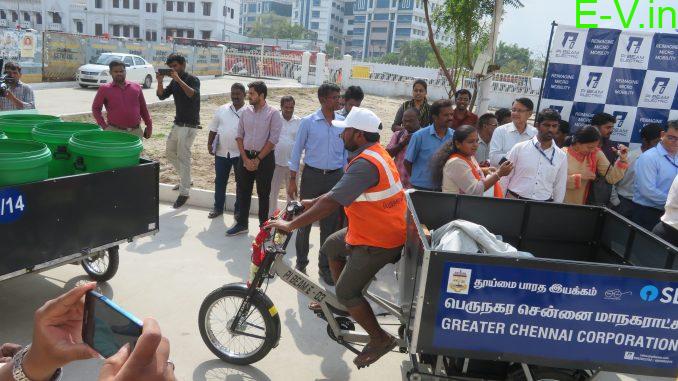 According to the Solid Waste Management rules 2016, the segregation of the solid waste at source is mandatory and also to process wet and dry waste separately. GCC has achieved around 42% source segregation so far. To implement the process segregation more effectively, more battery-operated vehicles are required.
Features of e-Tricycle
On a single charge the tricycle can run up to 45 kms. It takes around three hours to get fully charged.

As every worker has to cover 15 kms each day on an average, charging frequency will be around one full charge every 3 days.

It has a greater loading capacity that can fit six bins. So, it reduces the workload for the workers by avoiding multiple trips to the nearest dumpsites to empty the bins.

Workers need not have vigorous training on the usage of the vehicle, as it is as easy as riding a cycle.

The inherent weight and presence of crossbar in a conventional tricycle makes it difficult to ride for any female worker. Pi Beam's electric tricycles addressed these issues with an easy riding mechanism and a gender-friendly frame design.
The first batch of these electric trikes have finally rolled out on November 26th in Zone 5 after extensive trials.  Based on the findings during the trial run, they are claiming that these vehicles will operate at 50% higher capacity and at half the price compared to the existing electric vehicles available for the GCC.