World's smallest folding electric bike-YikeBike
World's smallest folding electric bike-YikeBike is a most compact folding electric bicycle. The YikeBike's first model was called Fusion and at present. The company is looking for a merger or full acquisition. It can also be carried on the shoulder or in hand. It is light and compact. It is not like a regular bike, the handlebars are placed at the back and are used as controls for direction. A seat is there and when it is riding its looks like a chair with only two wheels.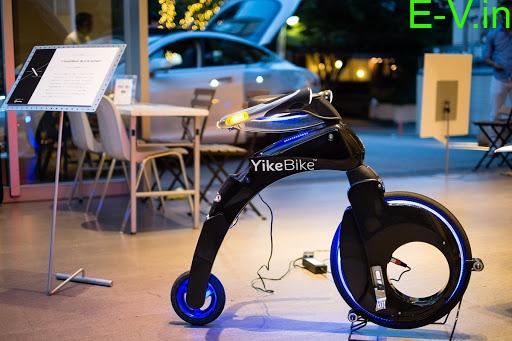 Its current lineup includes the base Model V and premium Model C, and the cheapest configuration is $4,995. The Fusion electric bike has 10 kg weight and its dimensions are 15 x 60 x 60 cm (6 x 23.5 x 23.5 inches). 
There is a difference between the two models is height, materials used, weight and range. Model C is made of carbon fibre and has a battery that promises a range of 20 km (12.4 miles), while the Model V is made of aluminium alloy and can only go 14 km (8.6 miles) on a single charge. With this range, YikeBike can serve as the first- and last-mile solution only.
E-Bike-Defender 3 Steps Easy Folding
The Model C is lighter by 2 kg (4.4 pounds) than the cheaper version and folds faster (20 seconds, as compared to 40). Both the models takes 90 minutes to charge and supports user weight (100 kg / 220 pounds) and can only go up 5-degree inclines.
Both the models have a top speed of 23 kph (14 mph). It doesnt have any pedals to get you moving faster. It has footpegs and it has 0.2 kW brushless motor in the front oversized wheel. It has ABS braking, integrated lights (including turn light) and regenerative braking are also part of the package.
The YikeBike won several awards, including the Green Dot award for sustainability, the German Design Award, and the HiTech Hardware Award. It was also a finalist for the Katerva Award (a.k.a. the Nobel Prize for sustainability) and is on permanent display at London's Design Museum.
If you are an EV manufacturer or EV Dealer or EV Supporter who want to share news related to electric vehicles on our website, please send an email to crm@electricvehicles.in