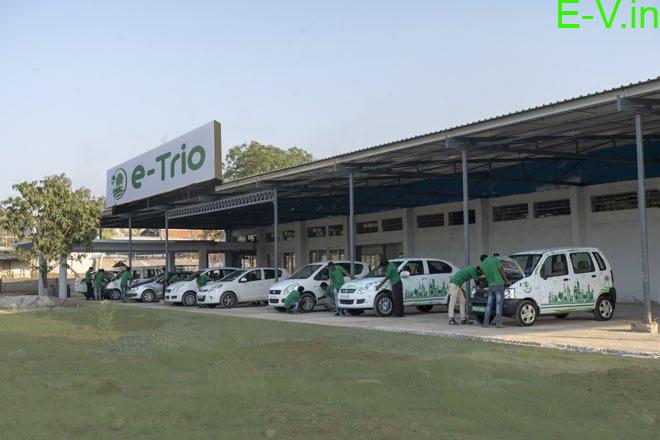 Hyderabad based Etrio raised Rs 22 crore Series A funding 
Hyderabad based electric vehicle startup Etrio Automobiles Pvt Ltd has raised Rs 22 crore ($3 million) in a Series A funding round from angel investors led by Janardhan Rao, founder of Triumph Global Group, a Singapore-based international commodity trading house with a consolidated revenue of over $900 million.
Hyderabad based Etrio
The company will use this amount to increase its investments and presence in the three-wheeler and bicycle product lines. The company is expected to launch its Touro, a three-wheeler brand in October.
The investment received by the company is to continue the EV segment. It focuses on its go-to-market strategy, customer acquisition in the business-to-business (B2B) and consumer segments, sales and service networks.
Top 3 EV startups in Hyderabad
"We will continue to evolve as an EV OEM [original equipment manufacturer], bringing reliable products based on superior vehicle architecture, efficient system integration, robust design and connected systems to drive mass adoption of EVs in India," Etrio co-founder and chief executive officer Deepak MV said.
Various firms recently raised funds for EV segment 
Entuple E-mobility to raise 25 Cr for electric powertrain manufacturing plant
Entuple E-mobility is a Bengaluru-based electric vehicle component manufacturer startup. It is planning to raise $3-3.5 Mn (INR 22-25 Cr) of equity capital from various investors. The amount will be spent on the company's 150,000-unit annual capacity electric powertrain manufacturing plant. The chief executive of Entuple, Rakesh Mishra said that the company is looking to make EV fast chargers by 2021.
The new facility located in Bengaluru aims to manufacture five types of hub-mounted motors and controllers for electric two-wheelers. It is also planning to upgrade its existing facility that makes frame-mounted motors, taking the capacity up from about 6,000 powertrains a year to 96,000 units which would be given to electric three- and four-wheeler makers.
Hero MotoCorp invested $1 million in Ola Electric
The Hero MotoCorp Chairman and Managing Director (MD), Pawan Munjal invested about $1 million in Ola Electric Mobility through his family trust.
The Pawan Munjal is one of the foremost global corporate leaders and his Family Trust has been allotted a total of 18 preferences shares valuing each at a premium of Rs 39,87,608 and face value of Rs 10. Since a few months, the Ola electric mobility has been fundraising. It has raised funds from SoftBank and automakers Hyundai and Kia.
Bounce raised fresh funding of $6.5 million for fueling EVs
Bounce a motorcycle and scooter-sharing start-up has raised a fresh of $6.5 million funding from existing investor InnoVen Capital, an Asia's leading venture debt provider.
The marks InnoVen Capital's third investment in Bounce in a duration of 18 months which is total debt investment to $12 million, exclusively from the firm. The new funding round comes after the company recently raised $105 million (Rs 750 crore) and said it will expand in India and will also enter into the aborad markets.
Yulu raised 30 Crore from US-based VC Rocketship
Yulu an EV micro-mobility service provider has raised a fresh round of Rs 30 crore in an equity funding round led by Silicon Valley-based VC firm Rocketship. This is the first investment ever made by Rocketship in an Indian micro-mobility company.
Till now the micro-mobility firm has raised more than $20 million in funding from several investors such as Bajaj Auto Ltd, Blume Ventures, 3one4 Capital, Wavemaker, and US-based Rocketship. At present, the Yulu has more than 18,000 eco-friendly vehicles which run on the roads of Bengaluru, New Delhi, Mumbai, Pune, Ahmedabad, and Bhubaneswar.
EVage raised funding from Ola Electric, launching 4W electric delivery van
Mobility tech electric vehicles startup EVage has raised an undisclosed amount of funding led by Ola Electric co-founder and senior advisor Anand Shah. EVage is all set to launch it's first 'Made in India' structure, four-wheeler electric delivery van in India.
The startup aims to electrify India's logistics sector with its zero-emission commercial vehicles. Inderveer Singh, founder and CEO, EVage said that they are working hard to make it easy for vehicle-dependent businesses to leverage clean mobility with purpose-built products.
If you are an EV manufacturer or EV Dealer or EV Supporter who want to share news related to electric vehicles on our website, please send an email to

[email protected]