EXO Neutrino is the sportiest, best handling electric scooter. It is specially designed with the aluminum material. This makes the bike exceptionally rigid and light, improving acceleration, cornering and braking abilities.
High-performance Racing Tech
The electric scooter has a fully adjustable suspension and high-performance hydraulic disc brakes both in front and rear.The rider feels this scooter as a race bike while riding. A high-performance controller is allocated in this electric scooter to work this electric scooter efficient.
Note: Indian riders can sign up here for a test ride.
Connected Smart
A dedicated smartphone app is designed for this electric scooter for future improvement from the data gathered in the app.
Regenerative braking systme for optimum usage

USB port for multimedia.

LED lights for efficient energy
EXO Neutrino Specifications
PERFORMANCE
Top speed of 45 km/h

0-45 km/h in just 6 seconds

Maximum Range 40-80 km
COMPONENTS
Brakes: Front and rear hydraulic disk brakes
Tires: 12 inches front and rear

Front & rear adjustable hydraulic suspension

Frame: Welded aluminum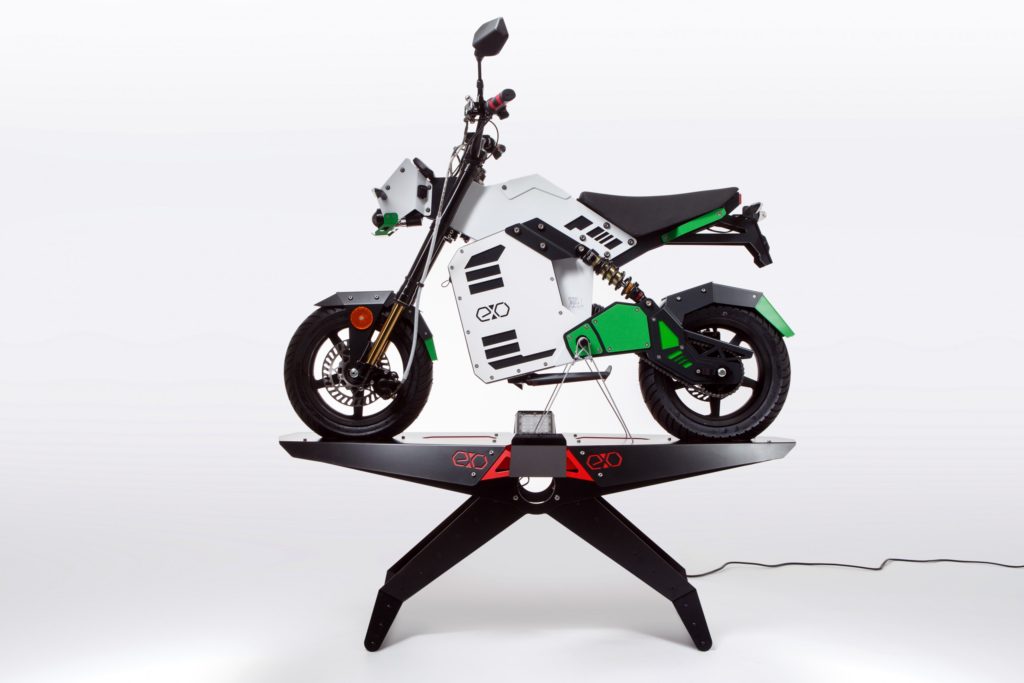 EXO Neutrino Battery and Electronics
Type LiFePO4, Lithium iron phosphate

Capacity 30 Ah (1,5 kWh) or 42Ah (2 kWh)

Nominal voltage 48V, Cell voltage 3.2V, 16 Cell series system

Charging time standard charger 8-10 hours, 4A charger
Charging time fast charger 2,5-4 hours, 10A charger

Battery Expected lifetime 50 000 km to 80% capacity

Built-in information display: Speed, battery state, odometer
Smartphone Compatibility: 5V USB charging, Bluetooth data transfer
Motor: Brushless DC, outer

rotor, neodymium magnets, 2 kg

Motor power: Nominal 2.0 kW, maximum 3.8 kW
EXO Neutrino Dimensions
Weight od the electric bike 76 kg (including batteries)

Wheelbase 1078 mm

Length 1520 mm

Seat height 775 mm

No. of storages 1

Carrying capacity 130 kg
EXO Neutrino Price
The price of EXO Neutrino is 3499 Euros.

Electricity price: 0.12 euro per 1kWh.

Very affordable when compared to a petrol scooter.