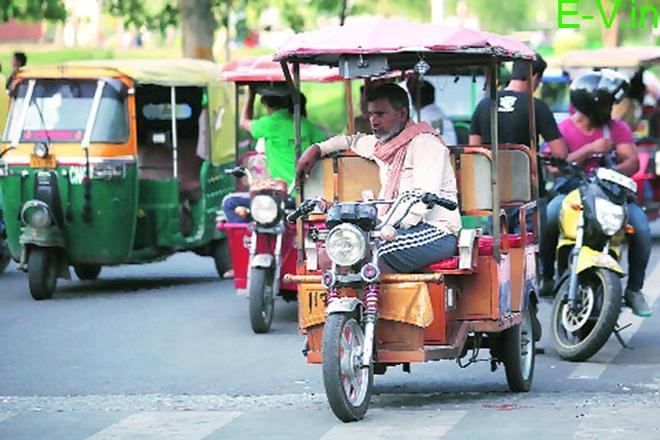 While automotive sales are tanking e-Rickshaws are witnessing tremendous growth with a growth rate of 16% CAGR as it is widely used in the country. E-rickshaws is known for its cheaper and shorter distance commutes such as in towns and cities. At current 4 lakh units is expected to grow to a million units by 2025. Which means it covers 80 percent of the EV market in India. Let us also see about Lead-acid or Lithium-ion battery? 
E-Rickshaws growth rate 16% CAGR-Lead-acid or Lithium-ion battery?
According to Frost and Sullivan reports the e-rickshaws in India will grow to 1 million units by FY2025 from 0.4 million in FY2019.
There is around 70 percent of the electric rickshaws running on the roads for last-mile mobility solutions to the tier 2 and tier 3 cities.
Out of them, 98% are powered by the lead-acid batteries which need to be replaced every 6-8 months which costing around 25,000-28,000 for each battery replacement however electric rickshaws are most cheaper and cost-effective and maintenance-free than the other fuel options and are in high demand.
However, if it is used as a non-commercial vehicle it doesn't have the same advantage said the Sun Mobility Co-Founder, Chetan Maini.
E-Rickshaws covers 80% of the EV market  
"In two-wheelers, even electric vehicle sales have come down due to the slowdown," he said.
It counts 80% of India's total electric vehicles market whereas electric two-wheelers are 11% and e-three wheelers 5% and electric cars just 1%.
Lead-acid or Lithium-ion battery?
The study reveals that 30,000 to 32,000 units per month are selling which are powered by lead-acid batteries. By 2025 70% of the market will shift to the lithium-ion batteries.
Pawan Goenka, MD, M&M said that by 2023 at least 50% of all autos and rickshaws will be electric and this segment is the future of mobility but in lithium-ion and not lead-acid.
The study focuses on how there is a great market for the retro fitment of swappable battery technology in India.
The swappable batteries ensure the low cost and lower total cost of ownership (TCO) per Km compared to buying fixed li-ion powered e-rickshaws.
What is the need of electric rickshaws in India?
India has a huge population and half of them use public transportation for their everyday commutes. Around 60 million Indians travel by electric rickshaws but mostly they use lead-acid batteries which invented in 1859.
It is good for the environment but if they start using the Li-ion batteries it will be much better and safe to the environment and also in terms of efficiencies and densities but it has their own challenges.
Aluminum-air batteries
Zinc-air is also an excellent technology and better alternative as it can be found in abundant. But for EVs, we can also use an energy-generating solution like aluminum-air batteries.
A mobility researcher, Abhishek Rai said that E-rickshaws are using the same batteries for traction that is powering the actual locomotion of the vehicle results in shortening the life of the batteries to 8 to 10 months.
It consumes a lot of battery power. An e-rickshaw lead-acid battery needs to change as often as every 6 months whereas a 2019 study says that the average four-wheeler requires battery change every three to five years.
However, the recycling process for this used lead-acid batteries is easy and the process to is less polluting than the mining.
"The recycling process of lead batteries goes without formal checks," said Priti Banthia Mahesh who conducted the study for Toxics Link. "Over 90 percent of the used batteries slip from the formal value chain into the informal sector and creates health and environmental hazards."
lithium iron phosphate battery
An e-rickshaw with lead-acid battery may cost Rs 25,000 to 30,000 whereas the same e-rickshaw with lithium iron phosphate battery doesn't need any battery replacements even after it runs for over 4 lakh km said Subodh Yadav, co-founder, and CEO of Infraprime Logistics.

The manufacturers use these batteries as they are cheaper and widely available and can be replaced easily. Lithium is the solution to all this. We have to wait for a few more years as some of the companies are into the process of setting up the lithium-ion battery manufacturing facilities in India.
Lithium Titanium batteries
The lead-acid battery will last for only 10-12 months plus adding 80 kgs to the vehicle weight affects the mileage. Lead-acid batteries are heavier, bigger and bulkier also takes much time to charge, alternative to this can be the Lithium Titanium batteries. 
Once India brings such things the cost of the electric vehicles may also be expected to get low and the e-rickshaws manufacturers will also use the lithium-ion batteries in e-rickshaws giving more life to the batteries.  Better to choose Lithium-ion battery vehicle than the lead-acid batteries.