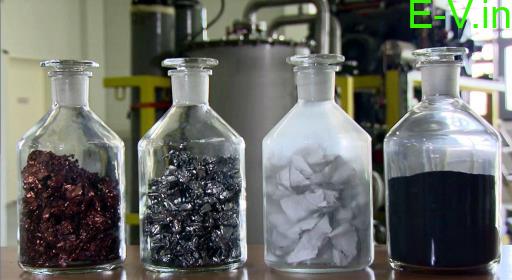 Battery recycling market, opportunity & challenges in India-Alternate to lithium imports
Lithium-ion battery (LIB) plays a significant role in our everyday lives. Currently, it is in high demand all over the world. It is used in most of the rechargeable devices like phones, tablets, laptops, etc. but from few years lithium-ion batteries are more common for electric vehicles. The electric vehicles with lithium-ion batteries are mostly preferred by the people due to its high performance. There is also another type of battery which is also a most popular is lead-acid battery which is used almost in all electric vehicles particularly in electric three-wheelers.
Battery recycling market, opportunity & challenges
But lead-acid batteries are not enough environmentally-friendly compared to lithium-ion batteries. However, the environmental impact of LIB disposal, which is a reactive alkali metal, is a major concern. If these disposals are not taken care properly, with proper mechanism most of the spent LIBs end up in the landfills. This makes the land contaminated and it becomes useless and harmful for the local ecosystem.
LIB consists of transition metal oxides or phosphates, aluminium, copper, graphite, organic electrolytes with harmful lithium salts, polymer separators, and plastic or metallic cases.
Lead-acid Versus Lithium-ion battery
The disposal of these batteries has increased the waste from the electronic and electrical equipment. It is noticeable that this waste contains highly toxic substances which re-enter the environment when it is dumped into the landfill.
It not only affects the environment but it is also a waste for economic opportunity.
70% of the hazardous waste in a landfill comes from e-waste which is approximately worth $62.5 billion. So recycling the LIBs can reduce the use of energy consumption and reduces the wastage of natural resources. For lithium-ion batteries, the economic opportunity is even more prominent.
In India, the lithium-ion batteries market is expected to grow significantly in the next five years. The annual lithium-ion battery market in India to increase from 2.9 GWh in 2018 to reach 132 GWh in 2030 at a CAGR of 37.5%.
At current the automobile sector is dependant on China, Taiwan, and Japan for the import of lithium-cells and the assembling-cell to pack is done in India. But due to India-China tensions, the government has started taking action against Chinese companies. Many electric vehicles manufacturers are dropping their plans for dealing with Chinese companies.
For example, recently the Maharashtra government has frozen 3 Chinese projects which were also included the Great Wall Motors. It is the major investment in the automotive segment from Great Wall Motors, which announced a Rs 3,770 crore investment towards setting up its plant in Talegaon, Pune, and a plan to hire more than 2,042 people. In January 2020, Great Wall Motors had signed an agreement with General Motors to acquire GM India's manufacturing facility in Talegaon.
Maharashtra government cancelled tender from China company
In other instance, Pune cancelled 100 electric bus order from china.  Pune Mahanagar Parivahan Mahamandal Limited (PMPML) has decided to hold back the tender of procuring 100 electric buses from Olectra, which is been in a joint venture between Chinese manufacturing company BYD.
In this situation, it is a great opportunity for India to find the lithium battery alternatives which makes the country on dependency on China or any other countries who manufacture lithium-ion batteries. There are several manufacturers and companies are already into finding an alternative option for lithium.
India & Australia collaborated for lithium battery research
Recently the Monash University, the India Institute of Technology Bombay-Monash Research Academy, and Deakin University collaborated and showed inexpensive materials can be used in making high-performance batteries for the future.
The study discovered a high-energy-density room-temperature sodium-sulphur (RT Na-S) battery. It has discovered that the simple chemical activation of a carbon cloth current collector which can be filled with a sulphur-based liquid electrolyte, could allow a Na-S battery to operate at near its theoretical voltage and deliver an energy density of just under 1kWh/kg of sulphur.
The government and several manufacturers of automobile industry are planning to set up lithium-ion batteries facilities in India. The localisation of lithium-cells will reduce the cost of electric vehicles (EV) and provide better output in local conditions.
However, the procurement of the necessary resources for manufacture stares at an imaginable crisis or cost fluctuations, primarily, due to uncertain geopolitical complexities. In a statement issued by the Indian mines ministry "Amongst identified strategic minerals, which have meagre resource base, lithium and cobalt are significant. They will help in building partnerships with other mineral-rich countries like Australia and those in Africa and South America."
The recycling of the metals and other natural resources from a spent battery through mechanical and metallurgical processes is the best option to make use of those spent batteries. The extracted content can be re-used to manufacture more batteries. As India imports lithium from other countries as lithium reserves are not available in India. Reusing these extracted metals will help in manufacturing more batteries. This will also help to overcome the dependency on imports of lithium.
To make battery manufacturing sustainable it is mandatory to invest early in large scale recycling infrastructure.
The Indian government has set up a goal to achieve electric mobility but the high price of EVs is becoming a hindrance. 40-50% of the cost of EVs is because of the batteries.
The government must focus on recycling for sustainable solutions. In that regard, the government had announced that they are into the process of framing a recycling policy for li-ion batteries under which tax sops would be considered for the recyclers. The proposed policy also imposes liability on battery producers to collect spent batteries under the Extended Producer Responsibility (EPR) norms.
Battery recycling market, opportunity & challenges
Lithium-ion battery market growth in India
Currently, 65% of lithium-ion batteries are used in the telecom sector, data centres, street lights, and other small consumer applications and the remaining 35% market is used by the electric vehicles segment and by 2030 it is expected to reach 80% of usage towards electric mobility.
It was expected the lithium-ion battery market growth in India is set to grow from 2.9 GWh in 2018 to reach about 800 GWh by 2030. Some of the initiatives of the government of India that helps to grow the li-ion batteries market in India are
Electric Mobility Mission Plan 2020-6-7 million EVs on Indian roads by 2020.

Installation of 175 GW of renewable energy by 2022 and 500 GW by 2030
Market opportunity- battery recycling in India
In India, 50% of batteries that reach end-of-life will reach to the recyclers around the world due to
Battery hoarding or storing

Battery disposal in waste

Second life usage in other applications

The recycling market in India is expected to pick up from the year 2022 onwards as the li-ion batteries which are currently in use will reach their end of life.
Will you give a second chance to your EV batteries?
Opportunity for battery recycling 
The annual recycling market is expected to reach around 22-23 GWh by 2030, which is around a $1,000 million opportunity.

Recycling is an effective opportunity to ensure immediate disposal and uninterrupted supply of rare battery-grade materials.

Employment generation

Lesser import bills for priced commodities

Reduction of carbon footprints

Formalising the e-waste segregation

Adopting a circular economy model 
Challenges for battery recycling 
As lithium and cobalt reserves are available in few geographies it is harder to avail these reserves everywhere and recycling process can recover these precious metals and can also save the environment from this harmful metals when discarded.

Cost of the new batteries is high

Lack of availability of metal reserves in all places

Competition among the local and as well as international markets like Norway, China and the US.
Need for recycling the spent batteries 
In Li-ion battery recycling process the metals like lithium, cobalt, nickel, and manganese are recovered and are 99% pure in nature.

This process helps to collect the materials from the used ones and to reuse it which leads to the need for fewer energy and natural resources.

The recovered materials can be used by the battery manufactures to be reused for the production of new batteries.

Mining of discarded high-tech products yields 8% less carbon dioxide emissions.
Tata chemicals battery recycling plant in India 
Last year, the Tata Chemicals have taken an initiative to recycle the lithium-ion batteries. It has set up the lithium-ion recycling plant in India and started its commercial operations. Recycling process will recover the active cathode materials from the spent lithium-ion (Li-ion) cells or batteries. The Tata chemicals unit is located near Mumbai, India.
The company's aim is to strengthen the energy sciences business undertaken by them. The recycling process is a pilot project and is productive. The company targets to recycle 500 tons of spent Li-ion batteries. An (MoU) memorandum of understanding has been signed by the Andhra Pradesh Economic Development Board and Urja Global to set up manufacturing units of lithium-ion batteries and electric vehicles in India.
Also, a Gurgaon based Napino Auto & Electronics Ltd signed an agreement with the US-based Farasis Energy Inc to manufacture Lithium-ion battery packs for 2W and 3W in India.
The three electric vehicle battery (Li-ion) manufacturers will set up plants in Telangana soon as part of the NITI Aayog's EV push. A 10 gigawatt combined capacity is expected to build with an investment of 1500 crore in the first phase. 
India aims global leader in EV Sector 
India aims to be a global leader in the EV sector but it has challenges to meet at present and also in the coming future. The global demand for Cobalt is expected to increase 11 times and lithium demand by three times between 2015 and 2025.
At present, the high-value metals are recycled not the entire batteries. For example, the total recovery rate for cobalt is only 30 per cent whereas if appropriate technology is used recycle rate could go up to 95 per cent.  Improper handling of battery waste can result in loss of the valuable raw materials.
The European Union and China have already addressed the challenges by codifying legislation to make carmakers responsible for recycling batteries.
The EVs in India provides opportunities for the e-waste sector to recycle the spent batteries and re-use valuable metals. If it is neglected we need to face the environmental and economical challenges in the future. We need to start working on it from now onwards so that it can make India a lesser dependant on the imports of lithium. There must be strict rules and guidelines to be made for the EVs battery manufacturers, dealers, and consumers to recycle the spent batteries. With this few efforts, we can reach towards achieving the government's aim. 
If you are an EV manufacturer or EV Dealer or EV Supporter who want to share news related to electric vehicles on our website, please send an email to

[email protected]