There are enormous responsibilities that come with high power. The Volvo C40 Recharge EV has been awarded a 5-star safety rating by Euro NCAP
---
Environmental sustainability is real. We see it in the rapid weather changes and high levels of pollution around the world. We, too, need conscious steps in our daily lives. This includes choosing reusable cups at your favorite coffee shop, recycling old glass bottles, and using compact fluorescent lights at home. The automotive industry is also serious about improving its green footprint. That's why we're keeping an eye on Volvo's upcoming C40 Recharge EV, which will be unveiled on June 14th. It will be the second all-electric vehicle in India by the Scandinavian company.
Here's what to expect from the upcoming Volvo C40 Recharge: 
Battery specifications for Volvo C40 Recharge 
The Volvo C40 Recharge is available in single and twin engines, the former with rear-wheel drive and the latter with all-wheel drive. Volvo has not confirmed whether both versions are available in India.
The single-engine model is powered by a 69 kWh lithium-ion battery and at 420 Nm it develops 235 hp and has a top speed of 180 km/h. Its single-engine C40 Recharge accelerates from 0 to 100 km/h in 7.4 seconds. Its single-engine C40 Recharge can also be supplemented with an 82 kWh battery with 248 hp output. Powered by an 82kWh battery, the dual motor C40 Recharge develops 402hp and 670Nm of torque. This four-wheel drive version accelerates from 0 to 100 km/h in 4.7 seconds and has a top speed of 180 km/h. 
Charge time and range of Volvo C40 Recharge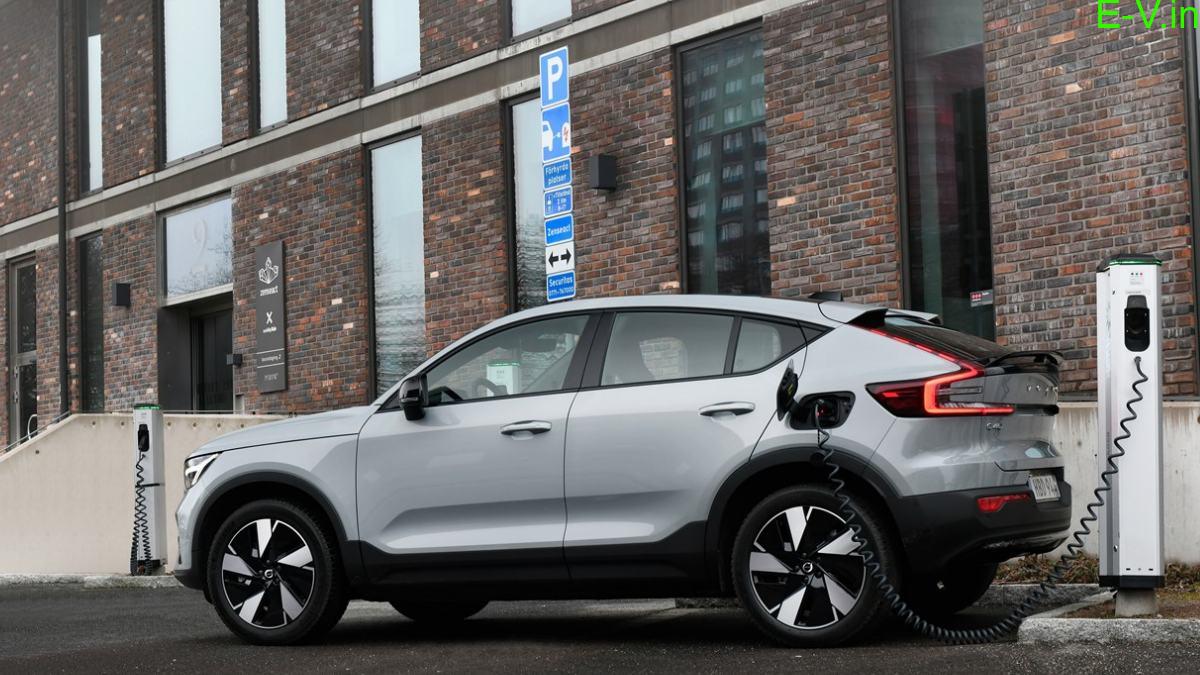 Starting with an entry-level 69 kWh battery pack, it offers a range of up to 460 km according to the WLTP cycle. A 130 kW DC charger can charge the battery from 10 to 80 percent in 34 minutes.
The 82kWh version offers a range of up to 515km and can now be charged with a 200kW DC charger. This increases the juice content from 10 percent to 80 percent in 28 minutes.
Volvo has updated the AWD version and increased the dual engine power output. A 183 kW (245 hp) electric motor is mounted on the rear axle and a 117 kW (157 hp) motor on the front axle. With the latest battery cooling updates, the twin-motor AWD can now travel up to 500km on a single charge. This increases the cruising range by 62 km over the previous model. A 150 kW DC fast charge charges from 10 to 80 percent. 
What's new in the Volvo C40 Recharge EV
C40 Recharge comes standard with Google services. For your convenience, it has Google Maps, Google Assistant, and Google Play at your disposal. It is also equipped with an air purification system that prevents up to 80 percent of dangerous PM 2.5 particles from entering the cabin. A 13-speaker Harmon Kardon music system with a 600W digital amplifier and vented subwoofer is featured on the C40 Recharge. It also offers remote services via the Volvo Car app to lock and unlock the car, pre-clean the interior, heat or cool, charge, and start the car. 
5-star Euro NCAP safety rating for Volvo C40 Recharge
The C40 Recharge has a 5-star safety rating for 2022, making it one of the safest cars on the market. In addition, the electric vehicle is equipped with safety features such as a 360-degree parking camera, cross-traffic warning, blind spot detection, lane departure warning, and emergency braking.  
If you are an EV manufacturer (or) EV Dealer (or) EV Supporter who want to share news related to electric vehicles on our website, please send an email to crm@electricvehicles.in

For the latest electric vehicles news,

follow electricvehicles.in on 

and our YouTube Channels