The bare naked KNC Ragera is the evolution of the automobile, the luxury car with the feature of Light weighed. Koenigsegg has released the carbon-iest hyper car ever with this "naked carbon" KNC Regera, if it has lacquer, varnish or epoxy layer is removed to give a finished look, bare carbon fiber.
The process of epoxy is hand-polished off to each part delicately not letting the carbon damaged. This process had been developed by Koenigsegg over many years by using the striking metallic graphite finish. It stressed on components such as wheels, steering wheels and aero but for the first time its applied to the whole car.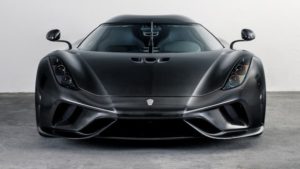 When the epoxy shaves out 20 kg (44 lb) from the weight of the car. It takes a lot of labor work. Epoxy will be scratched, the bare carbon and chip is resisted. As the epoxy is scratched the parts should be perfect. During the building stage there is no smoothing or adjustment techniques available.
Unique Features: 
It stands unique for its light weight feature for the hyper car lovers who would love to buy carbon fiber cars.
In less than 20 seconds it can take you 0-400 km/h (0-249 mph).
Carage, a new Swiss Koenigseg dealership ordered and specified with KNC Regera is set to open in March next year. Its delivered to its owner.