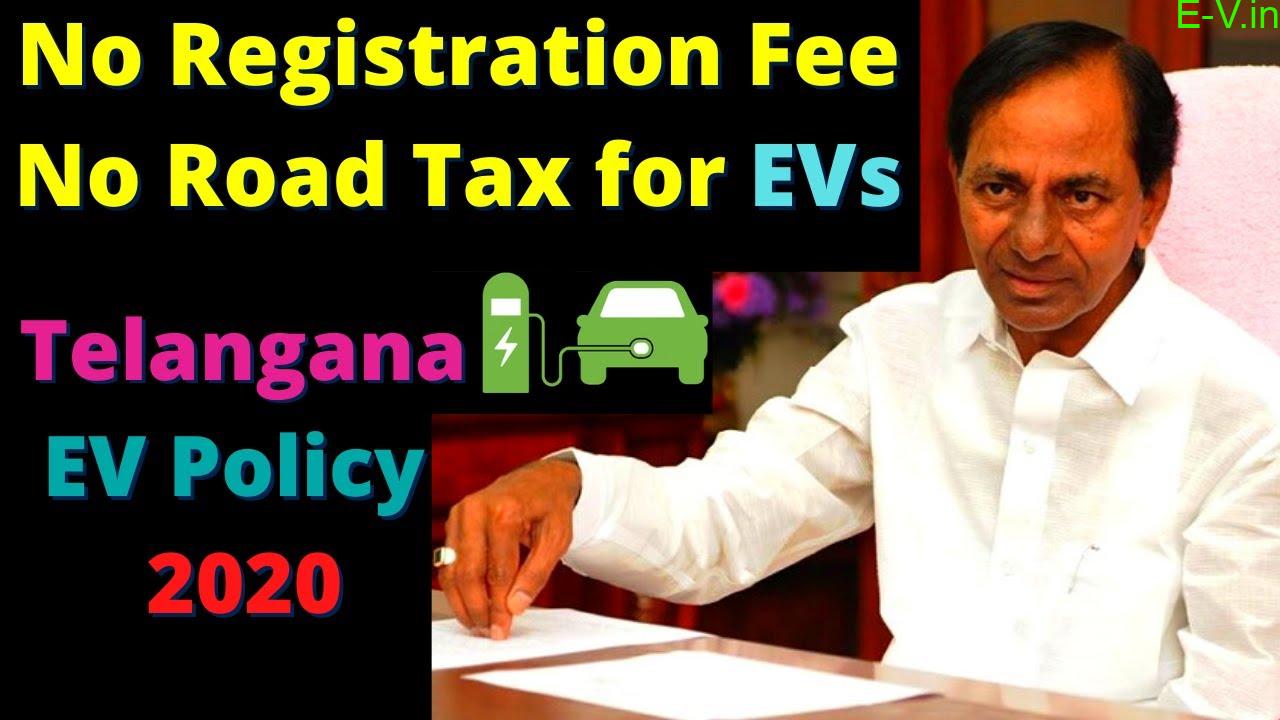 Telangana EV policy 2020
The Telangana government has approved a new electric vehicle policy for the state to boost the adoption and promotion of electric vehicles in the State and to attract investments in the sectors. It focuses on local job opportunities with 1.2 lakh direct and 2.5 lakh indirect employment opportunities and encouraging electric vehicles production by providing incentives.

Telangana EV policy 2020, No road tax & registration fee!
Under this policy, there will be 100 per cent exemption on road tax and registration which will be provided to the first two lakh electric two-wheelers and first 5,000 electric commercial four-wheelers. The electric three-seater auto-rickshaws will also get 100 per cent exemptions of road tax and registration fee for the first 20,000 vehicles.
The Telangana government aims to develop the state into an EV manufacturing hub. The EV manufacturers and EV charging stations/swapping stations equipment will be eligible for 25%  per cent capital investment subsidy for the
first 500
fast charging/swapping stations
duty exemption on power tariff to public charging
stations for 10 years and reimbursements up to 75%
for private EV charging service providers and fast-charging equipment.
The Telangana has set a target of electric vehicles sales by 2025,
80% two- and three-wheelers which include motorcycles, scooters, autorickshaws,
70% commercial electric cars ride-hailing companies, such as Ola and Uber,
40% of electric buses,
30% of private cars and
15% of electrification of all vehicles. 
The State government plans to invest around Rs 1,425 crore towards incentives and provide
775 acres of land to EV manufacturers by promoting an EV hub.  
In Telangana, as of August 6th, the sales of electric vehicles has been increased by 23 per cent and
6,000 electric cars and 4,000 electric two-wheelers
are plying in Telangana.
Recently, the Delhi government has also
announced its EV policy in 2020.
Under this policy, the electric cars will get a subsidy of 1.25 lakh
and electric two-wheelers, three-wheelers get a subsidy of up to
30 thousand rupees based on the battery capacity.
If you are an EV manufacturer or EV Dealer or EV Supporter who want to share news related to electric vehicles on our website, please send an email to

[email protected]