Solar charging canopy electric scooters & e-bikes from Motosola
Here is a solar charging canopy electric scooter by Motosola company. The Motosola solar charging canopy can be seen around Asia. The Motosola charging canopy was built to add utility to the scooter. This not only saves you from the sun providing shade but also charges your vehicle.
These canopies are not just for saving from the sun but is also for something useful. By just adding a solar panel and a charge controller, it does the double work of providing shade and a solar charger.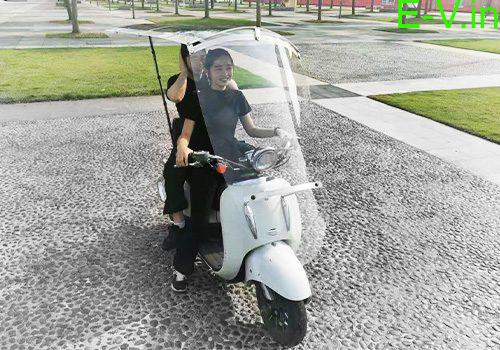 Company's charging canopies are designed in such a way that it can be used or attached to different types of electric scooters.
Solar charging canopy electric scooters & e-bikes
The Motosola also works closely with the manufacturers to design and to build customised solar charging canopy for various electric scooters and e-bikes. It offers currently two solar panel options like 100 W and 150 W. Per day the canopy solar chargers can chargeback 1.5 kWh into a scooter.
Many electric scooters offer the batteries in the 1.5 kWh range that means this scooters can be under the sun and charged to fully using the sun energy. However, some riders may not use the complete charge in one day and some may complete it in a day. Depending on the distance of their commutes each day.
The canopy is most commonly used in Asia and its not a bad idea. It is most beneficial for people. They just have to add the solar panels and a controller to their electric scooters and e-bikes as many people in Asian country already use a canopy.
We can also try something similar to this. Especially in India, where we are striving to transform all the ICE vehicles to electric. We will not only save on electricity bill but also save ourselves from the direct harmful sun rays on us while using two-wheelers or any other such vehicles.