Introducing STROM R3 the two-seater e-car
Strom R3, A new electric car with Reverse Trike feature
Introducing Strom-R3, a perfect electric car designed to fit your urban lifestyle. Storm-R3 is a two-seater e-car with reverse trike feature i.e. two wheels at the front and a single wheel at the rear. Read further to know about STROM R3 the two-seater e-car. 
Strom R3, the two seater e-car
Strom Motors is a Mumbai based startup, re-inventing a car design in the form of their electric car named Strom-R3. Recently Strom Motors received huge funds from Indian Angel Network. This funding could help Strom Motors to expand and re-invent the electric vehicle technology. This year Strom Motors was awarded as the top 10 technological startups by the government of India. Strom R3 is expected to be launched on this November.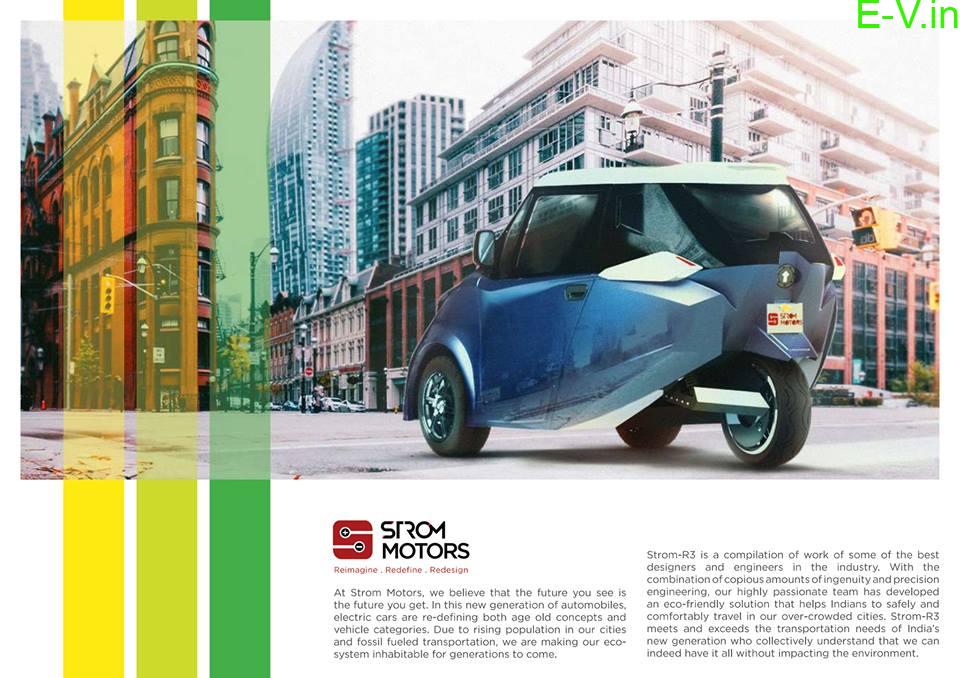 Also Read: EV Startups in India List
STROM R3 the two-seater e-car
The Strom-R3 comes up with the following features 
Strom-R3 offers a top speed 80 kmph and a range of 80 km on a single charge.

Climate Controlled Air Conditioner

Also comprises of Power Windows and Central Locking system

It provides a touch-screen interface with Gestures and Voice controls

Also allows app connectivity and remote diagnostics

Strom R3 offers the mileage Rs. 0.4/km

Strom R3 uses a BLDC 13kw High Torque DC motor and comes with Dual Chain Rear Wheel Drive.

It's charging time is 3-6 hrs.

Strom R3 designed with Electronic Regenerative Braking system that comes with 2 Disc brakes at the front and 1 Rear drum brake.

Its dimensions are 2907mm×1450mm×1572mm and its kerb weight is 450kg.

Another notable feature is that Strom R3 is equipped with a large sunroof.
The two noteworthy features such as Automatic vehicle following system which enables smooth ride even in stop-n-go traffic and Remote Assisted Parking system make Strom R3 even more worthy.
With a running cost of RS 0.40/km and almost zero service costs, the STROM-R3 is perfect for working professionals or as a second car in every household. The expected price of Strom R3 is Rs. 3 lakhs.