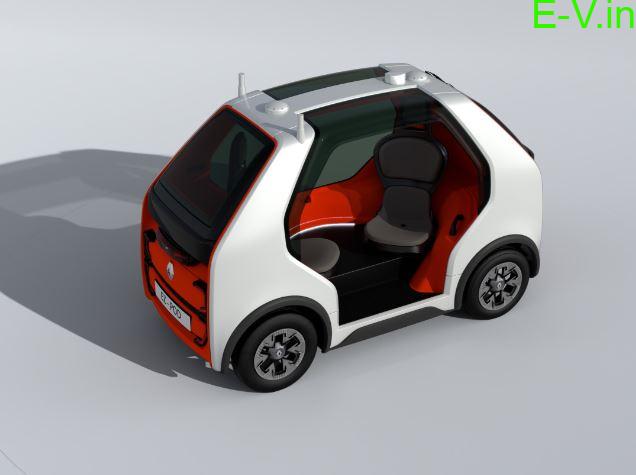 Renault EZ-POD electric robo vehicle is a small autonomous, connected electric robo vehicle which is designed for short distance transportation of people and goods.
Renault EZ-POD electric robo vehicle
The small robo vehicle can easily be parked when you take it to some packed sites such as hotels, shopping centers, campuses. You can experience the short distance drive on this robo electric vehicle.
The French automaker, Renault, unveiled the EZ-POD which offers the limited-speed micro mobility solution. It is a two-seater autonomous electric vehicle with a limited speed, compact design, and agility.
It can be used within the pedestrianized environments such as airports, car parks, shopping centers.
EZ-POD drove at pedestrian streets at low speeds under 6 kmph
It can also be driven on some pedestrian streets at very low speeds under 6 kmph. It can also be taken right till the entrance of buildings and houses to drop off people such as elderly people and with cumbersome shopping, children, or luggage.
Renault EZ POD is inspired by EZ-GO concept car and EZ-PRO concept car.
Renault EZ POD Features 
Renault EZ POD is having one camera and Lidar on the front to scan the scene ahead, plus short and long-range radars located behind the car's shiny black front and rear trim.
Two antennas and a GPS in the roof, for real-time position tracking and connectivity. Its openings are on the side so that people can get in and out easily and fast. The interior is plain and colored which is easy to clean.
Similar  to Twizy electric car 
It has the same seats as original Twizy which is covered with structured plastic or more ecological materials, such as processed linen floor mat.
Two screens give information about the journey
There are two screens that give information about the journey and inside there is lighting system which enables to play "welcome" and "goodbye" and it also gives information such like waiting, booked, on a journey.