Citroen has unveiled India's first all-electric hatchback, the ec3.

An all-electric version of the C3 hatchback.
Citroen unveils the ec3 in India, its first all-electric hatchback. Ultimately, the company accepted the eC3. An all-electric version of the C3 hatchback is already on sale in India. Citroën is also trying to boost sales by exporting the eC3 from India, but this has unfortunately been low.
Pre-orders for the new EV will reportedly start on January 22nd. And the product will be available in its showrooms starting next month. The company plans to announce pricing in the near future.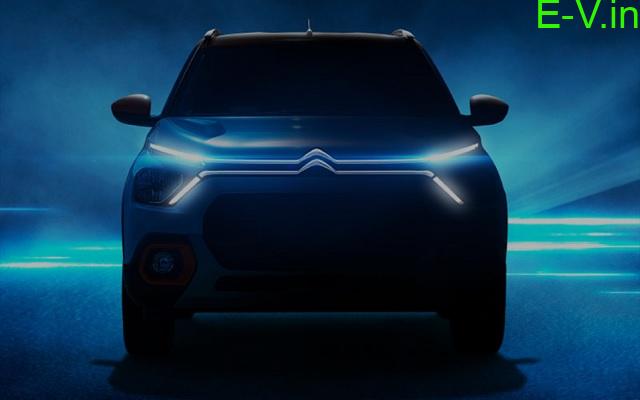 The interior of the Citroen eC3 differs from the petrol car with no tailpipes and new charging ports in the front fenders. Otherwise, the new EV looks like a petrol car from the inside. The interior, meanwhile, gets a slightly revised center console with a new throttle controller that replaces the manual shifter. The underlying mechanics have not changed. This was done to optimize the cost of the eC3, allowing for greater economies of scale by sharing parts and components with its ICE counterparts.
The Citroen eC3, like petrol cars, comes in two variants: Live and Feel. The eC3's features are similar to the ICE model, with the high-end Feel having a 10.2-inch touchscreen, wireless Apple CarPlay, Android Auto, a four-speaker audio system, and a height-adjustable driver's seat. The eC3 also has connected car technology with the MyCitroen Connect app with 35 functions. This allows you to check the charging status and location of your car and navigate to the nearest charging station. In terms of safety, it is equipped with dual airbags and ABS with EBD.
The Citroen eC3 gets a 29.2kWh battery pack that is being sourced from Chinese firm Svolt, although Citroen is looking to localize it in the long run. The Citroen EV comes with a 3.3kW onboard AC charger and is also capable of CCS2 fast charging. The eC3's front-mounted electric motor produces 57hp and 143 Nm of peak torque. The eC3 has an ARAI-certified range of 320km. It comes with two driving modes – eco and standard – and also features regenerative braking. 
Citroen says that the eC3 can do 0-60kph in 6.8 seconds and has the highest speed of 107kph. As far as charging the device, it is compatible with DC Fast Charging where it can charge from 10-80 percent in 57 minutes. On a home charger, the battery can be top-topped up from 10-100 percent in 10.5 hours. 
The eC3 is squarely aimed at the Tata Tiago EV, which uses a 24kWh battery pack in its higher specification for an ARAI-rated range of 315km. Citroen offers a 7-year/1,40,000km warranty on the battery, a 5-year/1,00,000km warranty on the electric motor, and a 3-year/1,25,000km warranty on the vehicle itself.
want to know more about the Citroen eC3 watch this video
If you are an EV manufacturer (or) EV Dealer (or) EV Supporter who want to share news related to electric vehicles on our website, please send an email to crm@electricvehicles.in

For the latest electric vehicles news,

follow electricvehicles.in on 

and our YouTube Channels