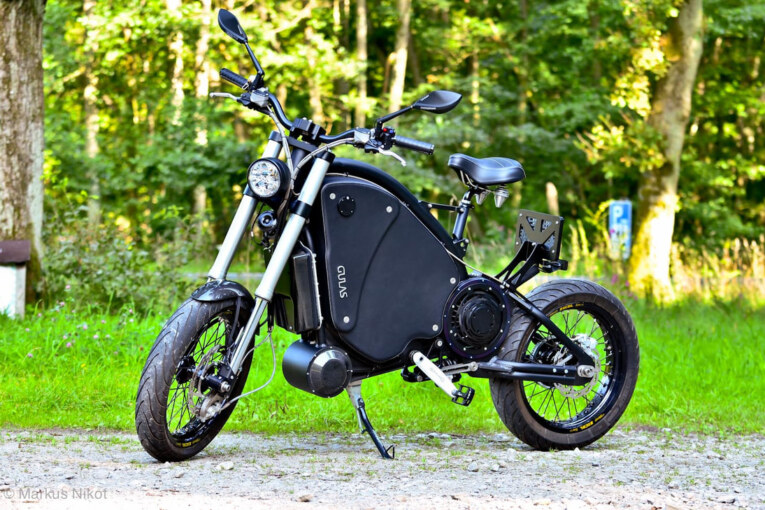 When childhood fun added with college craziness the product is GULAS PI1 ELECTRIC MOTORCYCLE. It is a combination of bicycle and motorcycle. Riding this electric motorcycle gives fitness and fun at the same time. In one world this electric motorcycle is a combination of two worlds. Gulas launched two bike variants of the Pi1 electric motorcycle with updates in range and specifications.
2 in 1 Electric motorcycle
Bicycle+ Motorcycle=Gulas
Zero emissions +usage and range
Lifestyle+ status
Gulas Pil Electric Motorcycle Unique features
Multiple modes: peddling and riding.
Strong electric motor
Top speed of 115 kmph
The maximum range of 240Km
Specifications of Gulas Pi1 ELECTRIC MOTORCYCLE
Gulas Pi1 ELECTRIC MOTORCYCLE specifications
Max power of 8kW and 12hp.
A torque of 60Nm per 44ft lb.
Top speed of 90Kmh.
Gulas Pi1 6.5 price is 23,401 EUR
Gulas pi1s ELECTRIC MOTORCYCLE Specifications
Max power of 28kW and 38hp.
A torque of 110Nm per 44ft lb.
Top speed of 90Kmh.
Gulas Pi1 electric motorcycle 10.0 price is 29,182 EUR
Gulas pi1/pi1S 10.0 Battery option
Max range of 200km
The capacity of 100 kWh
Charge time of 4.5 to 9 hours.
Gulas Pi1S 10.0 price is 35,041 EUR
Gulas pi1/pi1S 6.5 Battery option
Max range of 125km
The capacity of 65 kWh
Charge time of 2.5 to 5 hours.
Gulas Pi1S 6.5 price is 29,261 EUR