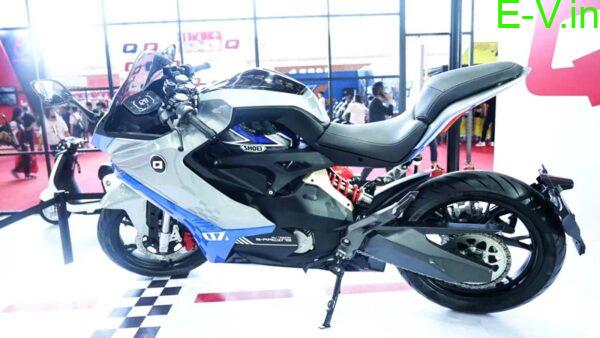 Benelli QJ7000D fully electric motorcycle
The Italian manufacturer Benelli's China-based sister company QJMotor has a number of new products in its portfolio and now the company has showcased the QJ7000D fully electric motorcycle at an event in China. Let us know in detail about Benelli QJ7000D fully electric motorcycle.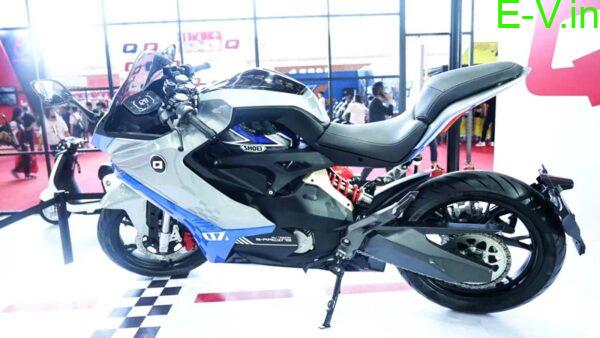 The QJ7000D electric motorcycle features a fully faired design and has two-front headlamps that are LED and sport a narrow, angular design. In its front, it has a fascia with a sleek quad-light setup, unique rearview mirrors and a V-shaped windscreen. Apart from this, it has some other key features such as USD front forks, single disc brake, and central rear shock absorber.
It is expected to get dual-channel ABS as standard. It is equipped with chain transmission and gearbox. It has a fully digital LCD instrumental panel that shows the range, speed, gear position, battery percentage, distance travelled, time, etc. It is also having Bluetooth connectivity.
It has a split seat design which is expected to have a comfortable position. The electric motorcycle will be a global product under Benelli's brand. We cannot tell whether the bike will launch in India or not.
Benelli QJ7000D fully electric motorcycle specifications 
While we look for its specifications, it is equipped with a 7000D with a mid-mounted motor that gets power from a 72V, 60Ah battery pack. It can give a top speed of 105kmph and 100 km of range. The QJMotor's first electric bike not only looks attractive and the space for the fuel tank has also been utilised as a storage space, specifically to store a helmet.
Recently, Benelli has unveiled a new electric scooter 'Dong' which is to be sold in the Asian markets. It has been recently launched in Indonesia. It is likely to make its way also to the European and US markets. Benelli Dong is a lightweight electric scooter that is small, quirky and funky to look at moreover its design is unique and it is certainly been developed using the know-how from the Chinese side of the operation.
The Benelli Dong electric scooter is equipped with a 1.2 kW electric motor and it uses a removable lithium-ion battery pack of 1.56 kWh. On a full charge, it can provide a range of 60km The electric scooter has been already launched in Indonesia with a price tag of 36.8 million Rupiah which is the equivalent of ₹ 1.89 lakh.
Benelli earlier in 2019 had announced Benelli India is eyeing to increase its sales in premium bikes. The company would boost up its production at its assembly unit in Hyderabad and has set itself a target of selling around 12,000 units by that year.
At present, the Italian motorcycle maker Benelli has 19 dealers in 18 cities. On expanding the retail market, the company planned to have around 60 dealers in 50 cities by the end of 2020.
Also, watch the related video here
If you are an EV manufacturer or EV Dealer or EV Supporter who want to share news related to electric vehicles on our website, please send an email to crm@electricvehicles.in

For the latest electric vehicles news, follow electricvehicles.in on Twitter, Instagram,Facebook and our YouTube Channels English, Hindi, Telugu and Tamil