Tata Motors is on track to achieve zero emissions by 2045
---
On stage at Auto Expo 2023, Tata Motors, one of India's leading commercial vehicle manufacturers, unveiled a range of safer, smarter, and greener vehicles and concepts designed to transform personal, passenger, and freight mobility. They will introduce a product group that is compatible with the future.
By employing fundamental strengths in engineering and innovation, an immense passion for manufacturing in India, and a human-centered engineering approach, Tata Motors will provide customers with comprehensive solutions and richer experiences. By doing so, they are propelling India towards a new dimension of innovation.
One of the company`s products is the Prima E.28K zero-emission tipper concept. The Prima E.28K is equipped with a battery capacity of up to 452 kWh and has a range of 150-200 km.
The motor is a 6-phase permanent magnet motor with a maximum power of 245 kW and a maximum torque of 2950 Nm. It has a 660V DC battery power pack with 150-400kWh capacity with 230Ah cells. The Prima E.28K has a gross vehicle weight of 28,000 kg and a climbing capacity of 44.15% at 28 tons and 28% at 40.4 tons.
The Prima E.28K is a technically advanced truck and the feature list reflects that. It features a multi-information display, a 7-inch touchscreen, a steering wheel with buttons, and projector headlights with daytime running lights. There are LED fog lights and LED safety lights (side indicators, ajar doors, and pedal lights).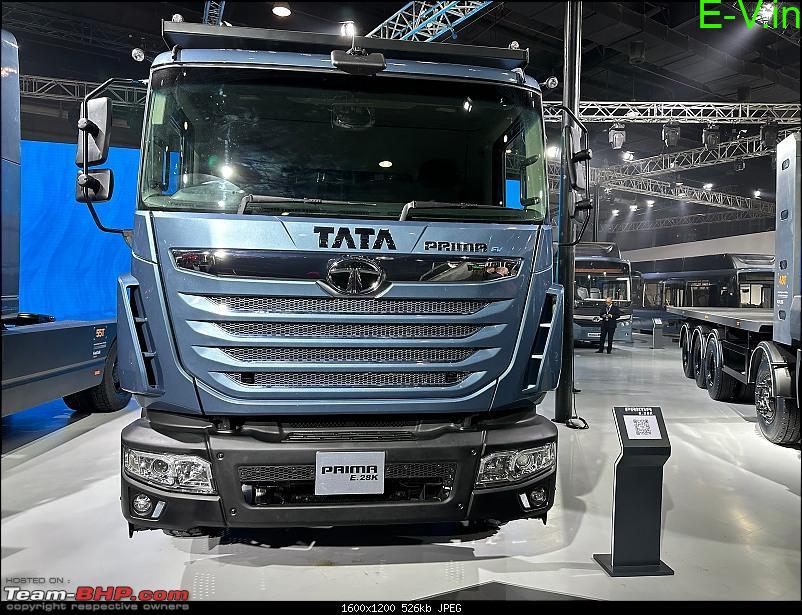 Driver assistance includes Hill Start Assist, advanced fleet edge telematics, driver monitoring systems, optional collision mitigation, optional lane departure warning, and TPMS.
Speaking on the future of mobility from the perspective of the industrial automobile, Girish Wagh, Executive Director, Tata Motors, said, "We are mainly following the worldwide megatrend of sustainable, connected, and more secure mobility in India. Our dedication and proactive moves in the direction of 0-emission technology will allow clients to transition to cleaner and more cost-effective mobility solutions steadily and seamlessly in the long run."
Tata Motors is demonstrating its leadership, dedication, and destiny readiness by showcasing the largest show of vehicles, standards, and answers at Auto Expo 2023. This will enable human and goods mobility in India.
If you are an EV manufacturer (or) EV Dealer (or) EV Supporter who want to share news related to Electric vehicles on our website, please send an email to crm@electricvehicles.in

For the latest electric vehicles news,

follow electricvehicles.in on 

and our YouTube Channels