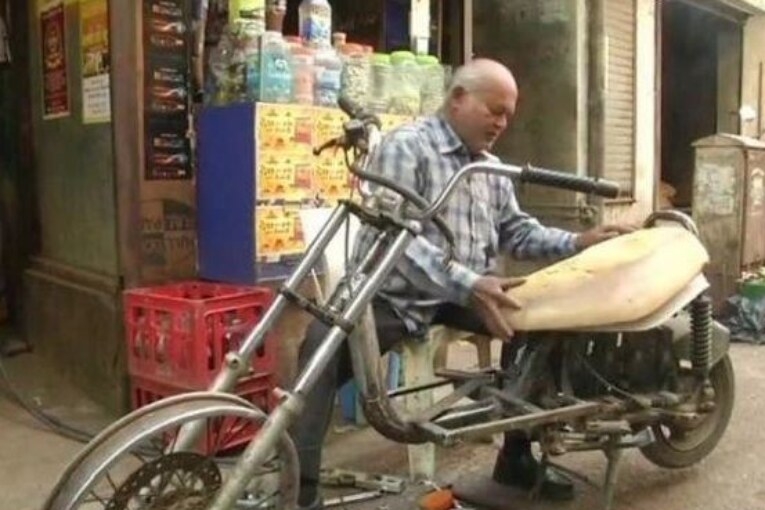 EVs Built By 60 Yr old Specially-Abled Man From Electronic Waste In Rs 25,000. No doubt, Electric Vehicles is growing and developing rapidly all over the world due to its special features. Everyone is motivated and accepting the eco-friendly drives which save the environment from the emissions released by the fuel based vehicles.
For Any Query Regarding EV Click Here 
EVs Build By 60 Yr old Specially-Abled Man
Vishnu Patel, differently-abled person in his sixties is motivated to build Electric Vehicles. Patel hales from Surat, Gujarat with hearing since birth surprised many trained, experience automobiles engineers. He uses e-waste – like discarded mobiles, laptops, TV remotes as well as vehicle parts – to build-battery operated vehicles.
Patel- If Rs 20 Lakh Loan Provided To Make EV
Till now he has built seven such battery-operated two and three wheelers which he likes to call it "e-bikes." he said, "I want to make three-wheelers for the differently-abled community, using which, they can give their families a ride too." He added, "If Rs 20 Lakh loan is granted to me, I can make a vehicle which will bring laurels to India."
EVs From Electronic Waste In Just Rs 25,000
To our surprise, Patel doesn't have any formal training in electrical or mechanical engineering and also he doesn't get any investments to carry out his projects. It's his will power to make eco-friendly vehicles with no emissions whatever it may take.
Patel Spends Rs 25,000 For Each Electric Vehicle Project
Patel spends around Rs 25,000 (including the salary of his workers) for each project from his pocket and it will take one month to him to complete one bike says his son Nikhil. Among all his projects, e-bikes stand apart as the star of the attraction of Patel's collection.




Patel says, "These battery-operated bikes fulfill our goal of not leaving behind any carbon footprint. By charging them for 2-3 hours, one can easily commute for about 35-45 km."
If you are an EV manufacturer or EV Dealer or EV Supporter who want to share news related to electric vehicles on our website, please send an email to crm@electricvehicles.in