Infiniti Prototype 10
Infiniti is back with another variation with the similar theme, "The Prototype 10." The prototype 10 inspired by its electrification performance and the experience of driving.
Future designs of Infinity will add speedster. By 2021 every new Infiniti model will be featured as electrified powertrains. It desires to build the electric models which will provide us a extended range with a driving pleasure and thrilled performance.
Prototype 9, a concept car designed for the early speedsters. looking forward to Prototype 10 is designed to encourage the early Californian speedsters.
"Prototype 10 highlights the shift towards powertrain electrification for INFINITI. In the near future our cars will offer high performance, extended driving range and the intelligent management of energy," said the Roland Krueger, President, INFINITI.
About INFINITI 
The "INFINITI Motor Company Ltd"  headquarters in Hong Kong with 50 markets around the world. It was launched for the first time in 1989. There luxury automobiles is currently built manufacturing facilities in Japan, the United States, United Kingdom, Mexico and China. The design studio is in Atsugi-Shi near Yokohama, London, San Diego and Beijing. It will electrify all its automobiles from 2021.
Features of Prototype 10
Form and Function
Its popular for its low speedster and confident.
It has long bonnet and open cockpit is contrasted by a fin which can be seen behind the driver's seat.
Balance
Its clear, short and ultra-modern shapes highlights its flowing bodywork.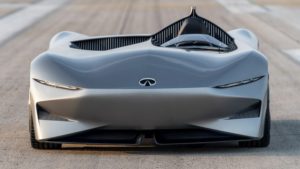 Continuous surfaces
The body structure of car which is simple, angular details, skyward-facing surfaces and an idea of clean motor making it a strong link for the flow of electric propulsion.
Driver Devoted
Its monoposto ( Single-seat) race car which is inspired by the cockpit gives a way to all the future electrified Infiniti models. The whole attention will be only on the driver.
Karim Habib, Executive Design Director, INFINITI said,
"Prototype 10 provides a link between where INFINITI stands now, and where we are heading. For us, electrification means performance — our cars will be powerful, efficient, and highly rewarding to drive, and Prototype 10 is a physical representation of our electrified future."