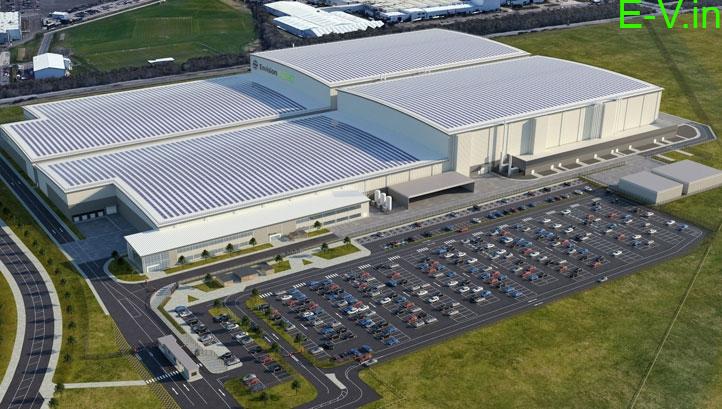 Nissan announced £1bn battery plant & EV crossover in UK  
Japanese car giant Nissan has announced a new EV manufacturing hub 'EV36Zero' in Sunderland and UK to produce a new electric crossover. The manufacturer said that a £1bn battery plant will be built in partnership with Chinese manufacturer Envision that will create 900 jobs at Nissan plus 750 at Envision and an estimated 4,500 in supply companies under an investment of £1 billion.
The Nissan Motor Co plans for Britain to supercharge its European electric future pledging $1.4 billion with its Chinese partner to build a giant battery plant that will power 100,000 vehicles a year including a new crossover model. It is planning to build a battery factory with at least 9 GWh annual capacity in partnership with AESC, a global player in world-leading battery technology, and Sunderland City Council. 
Nissan president and chief executive officer Makoto Uchida said "This project comes as part of Nissan's pioneering efforts to achieve carbon neutrality throughout the entire lifecycle of our products. Our comprehensive approach includes not only the development and production of EVs but also the use of on-board batteries as energy storage and their reuse for secondary purposes."
"This project is the demonstration of the renaissance of the British car industry," Ashwani Gupta, Nissan's chief operating officer said. The British Prime Minister Boris Johnson said Nissan's move was "a major vote of confidence in the UK and our highly skilled workers in the North East". Nissan will invest up to 423 million pounds to produce a new-generation all-electric crossover vehicle at the plant.
Invest over 200 billion yen ($1.82 billion)
Recently, it has also announced the partnership with China-based battery maker Envision AESC group to establish new battery plants for electric vehicles in Japan and United Kingdom. It is going to invest over 200 billion yen ($1.82 billion) and will start making batteries in two new plants by 2024. It aims for a total capacity of 700,000 EVs per year.
Nissan has already been sharing common platforms, powertrains and components with Renault and Mitsubishi. Ashwani Gupta, Nissan's COO said "That's why we are shifting the gear of further synergies using electrification as the main pillar."
The focus will be on sharing batteries, electric powertrains and electronic architecture. Gupta said that it had battery sourcing in China, Japan, Europe and the United States. The alliance together made sales of more than 7.8 million cars last year, about 23% down from 2019. Nissan is one of the world's first car makers to bring the fully electric vehicle with its Leaf model. It will share the platform for its upcoming all-electric Ariya SUV with Renault.
Also read related article: Nissan unveiled an electric SUV concept 'Ariya' at Tokyo Motor Show
If you are an EV manufacturer or EV Dealer or EV Supporter who want to share news related to electric vehicles on our website, please send an email to crm@electricvehicles.in

For the latest electric vehicles news, follow electricvehicles.in on Twitter,Instagram,Facebook and our YouTube Channels English, Hindi, Telugu and Tamil