Nexzu Mobility cargo electric bicycle Roadlark 
Nexzu Mobility an Indian electric two-wheeler manufacturer has launched a cargo version of its long-range electric bicycle model Roadlark with a price tag of Rs 42,000. This newly launched cargo electric bicycle is made in India product and is powered by a dual battery every hour. It comes with two battery options such as fix and removable.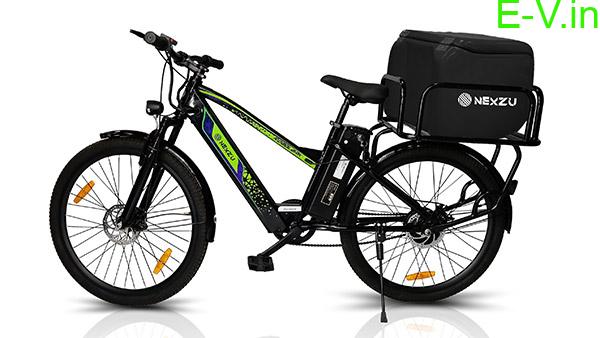 Nexzu Mobility previously known as Avan Motors's'Roadlark Cargo' can carry a payload capacity of up to 50 kg and provides a top speed of 25 km. Its batteries can be charged in 3 to 4 hours.
Cargo electric bicycle
While we are looking for its technical specifications, its dual battery pack is powered by a 250W 36V BLDC electric motor and can give a range of 100 km on a pedlec mode and 75 km of range in throttle mode.
Its cargo model features a customisable rear carrier arrangement and a metal carrier that holds some amount of box on the top. It comes with dual disc brakes and comes with IoT connectivity designed and developed by Nexzu.
The cargo bicycle is specially made for the bulk last-mile delivery needs of the e-commerce industries. Its target customers are supermarkets, retail outlets, industrial parks, restaurants, cloud kitchens, essential service suppliers, service & maintenance companies, and garages, among others.
Speaking about the new product, Rahul Shonak-COO Nexzu Mobility, said "Roadlark Cargo is built with superior strength steel, which gives durable rides on difficult roads. Equipped with high safety features such as dual disc brakes, it also comes with advanced features of IoT-connectivity, designed and developed by Nexzu. The value proposition of this vehicle is by far the best in the industry."
Pankaj Tiwari, the CMO Nexzu Mobility, said, "E-commerce businesses in India have been witnessing increasing traction, especially during the ongoing pandemic. However, a lot of companies find it difficult when it comes to making efficient and successful product deliveries, mainly due to the lack of purpose-built vehicles. The new Roadlark Cargo is designed to address this challenge. With cutting-edge features, these e-cycles not only ensure reduced running costs for delivery providers but they also make the entire riding and delivery experience seamless for both rider and consumer with enhanced productivity and cost optimization."
Also, watch the video here 
If you are an EV manufacturer or EV Dealer or EV Supporter who want to share news related to electric vehicles on our website, please send an email to crm@electricvehicles.in

For the latest electric vehicles news, follow electricvehicles.in on Twitter, Instagram,Facebook and our YouTube Channels English, Hindi, Telugu and Tamil