Myers EV Point5 electric half car-For when driving anything else would be a waste.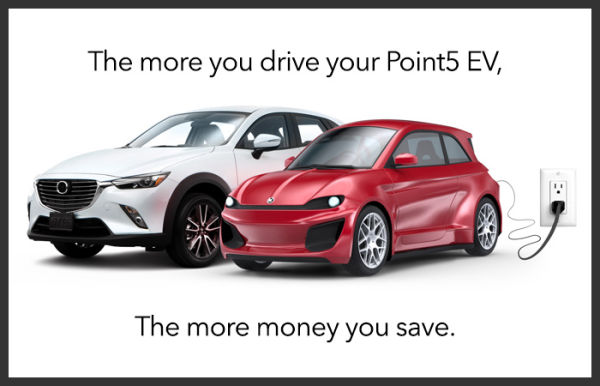 The average American household has two and a half cars, to utilize the half factor, introducing the half car, with half size, half cost, all electric, less pollution and lasts longer, 5x times more efficient.
Charges overnight on a standard outlet. Park anywhere, fully equipped less than $19,000.
Why should you buy this electric half car
Myers EV point5 is a perfect car for the Americans. This electric car concept comes with an idea
of the Daily routine of the Americans,8 out of 10 trips they travel alone or 50% occupancy, so this half car will replace the 80% occupancy and make it 10 out of 10.
Specifications of Myers EV Point5
Top speed of 120km.

A maximum range of 112km.

110V charging.
Advantages of this half car
Buy half the car
Spend Half the Money
Charge Up Anywhere
Myers EV Point5 Features
Heating /air conditioning

Multimedia

Regenerative Braking

All Color Choices

Spacious Interior

High-Quality Materials

Plug for Fast Charging along with Fast Charger for home

160 km range +$3,500
Price of the electric car
The base price of Myers EV is 264,95
Federal EV Tax Credit:  -$7,500
Net Cost $18,995
Photo gallery
Myers EV Launch date
This electric half car is exclusively available in the U.S. Myers motors LLC announced that they will deliver 3,000 cars in the 2nd half of 2020. 
If you want this electric car, you can reserve with four different denominations,$1,000,$500, $250 and $100, this money will become the discount price after the purchase.