The GEM e2 is a two-passenger low-speed vehicle, includes standard safety features such as an automotive glass windshield and 3 pt seat belts. This electric vehicle delivers a clean and safe drive with an extremely low cost of operation.
Gem EV have front wheel disc brakes with a motor that features Regenerative Braking System. Users will feel hilarious ride experience with the 5.6 inches travel time of the front suspension along with an independent trailing arm rear suspension with 5.9 inches of travel.
Gem also comes with 13-inch street grade tire which can be upgraded 14-inch aluminum alloy. The dashboard is ergonomically designed.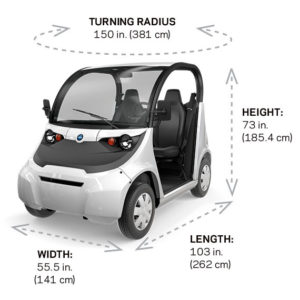 This electric vehicle range can be customized with various batteries. With lithium-ion 8.9 kWh, the range can be tripled and using 12.4 kWh battery high performance can be obtained.
Specifications of GEM E2
Top speed of 25 kmph
Maximum mileage of 110km 64 80 96
Battery input voltage 48V
6.7 HP AC Induction Motor
Payload capacity – 363 kg
Turning radius – 381 cm
Wheelbase – 175.3 cm
Front disc brake and rear hydraulic drum
Features of GEM E2
Regenerative braking system
Weather resistant seats
Adjustable driver seats
GEM E2 Price
The price of GEM E2 electric vehicle is around 6 Lakh rupees in India.