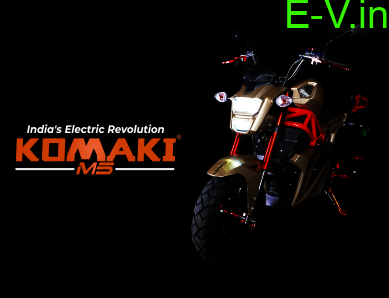 Komaki electric cruiser bike 'Ranger' to launch in January 
Komaki Electric Vehicles a Delhi based electric vehicles manufacturer is all set to launch India's first electric cruiser bike 'Komaki Ranger' in January 2022 which claims to provide 250 kilometres.
The company's Ranger electric bike will come with a 4-kilowatt battery back which is the biggest battery pack in an electric two-wheeler in India. With this largest battery pack, the cruiser bike will provide a range of 250 km. It will be powered by a 5000-watt motor. The Komaki has invested more than Rs 7.5 crore for designing Ranger.
While we look for its features, it has a cruise control, repair switch, reverse switch and Bluetooth system and advanced braking system. The new electric cruiser motorcycle will be an affordable product and is expected to be a game-changer in the electric two-wheeler segment. 
Gunjan Malhotra, Director, Komaki Electric Division, said, "This is something that we've been working on for quite a while. Our ultimate aim is to satisfy the needs of every customer segment. Now that we have established a strong foothold in the utility segment, we're looking to cater to the demands of the leisure segment as well. The launch of our new cruiser is a statement that EVs aren't just for everyday use. They can be a great leisure companion as well. We know that many people have been waiting for an offering like this for a long time, and we're glad to have manufactured India's first electric cruiser."
Komaki electric scooters 
The company offer electric scooters such as TN95 and SE. The SE is powered by a 3 kW BLDC electric motor with a detachable lithium-ion battery pack and can give a top speed of 85 kmph. It provides a range of 95-125 km on a single charge. Komaki's TN95 gives 100-150 km on a single charge and comes with a detachable lithium-ion battery.
If you are an EV manufacturer or EV Dealer or EV Supporter who want to share news related to electric vehicles on our website, please send an email to crm@electricvehicles.in

For the latest electric vehicles news, follow electricvehicles. in on Twitter, Instagram, Facebook and our YouTube Channels English, Hindi, Telugu and Tamil