Wallpaper is the future concept Hyundai electric car with the reflections of emotions. Wallpaper electric car concept vision is to discover perfect harmony between feeling and function.
Hyundai wallpaper is Designed with 4 key elements- Proportion, architecture, styling, and technologies like autonomous driving connectivity and electrification. The electric vehicle Focussing on consumers experience.
In the past, the vehicles compete for its performance and its design but the future cars are more about peoples feelings.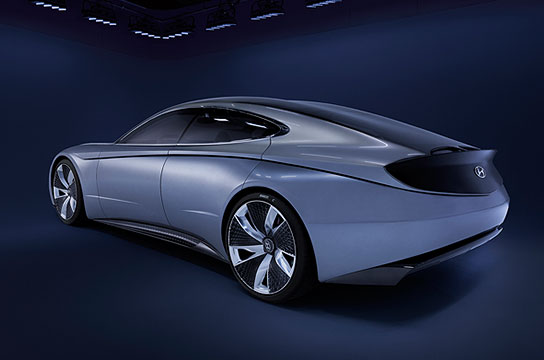 Le Fil Rouge has a really special light signature where Hyundai is promoting light architecture either in autonomous or driving mode.
About Hyundai Electric Car
Innovating beauty in transport with a route map of elegant design. Hyundai's zero-emission car gives the driver a tactile and sensory relationship the performance.
Hyundai Electric Car features
Elegant flow of lines and the parametric jewel surfaces
3D LED Lights Technology
The LED lights create a surface and disperse vivid colors into the air. Different graphics can be performed in the car software for projecting different 3D lighting effects.
Elegance in design language