The Terrafugia TF-X is a four-seat hybrid flying car with wings.No runway needed to land this flying car. It is a computer controlled flight with twin electric motor pods. One Megawatt of power lifts the passenger. In seconds an airplane becomes a car which can also provide true door-to-door transportation. It is still in the early stage of the development. A precise delivery date is not yet announced.
Terrafugia TF-X Flying Car Specifications
The lightning speed of 320Km/h.
Electric motor power of 1Mega watt which is equals to 1000 household power.
It gives an unimaginable range of 800Km.
300hp engine helps in recharging the battery.
Flight and drive modes:
The TF-X can convert between flight and drive modes under 1 minute.
Computer controlled flight.
The TF-X vehicle can automatically take off, fly to its destination and land with a fully controlled computer operation. It can take off within a radius of 50 Feet.
Tesla model F Competitor
Tesla has announced it will release its first autonomous flying car in 2019. Elon Musk unveiled the model F concept at the end of the company's model 3 event.
Tesla model F vertical takeoff and landing (VTOL).It will able to reach a top speed of 482 km/h in the air with a price of $79,900.
Tesla model F is definitely the competitor for Terrafugia TF-X in terms of performance and range.
Terrafugia TF-X Safety features
The TF-X offers Crumple Zone, safety cage, airbag, and seatbelts. It also equipped with a full vehicle parachute system and cutting-edge collision avoidance technologies.
The license requires to drive TF-X
A standard US driver's license is required to ride this super electric flying car.
Terrafugia TF-X launch date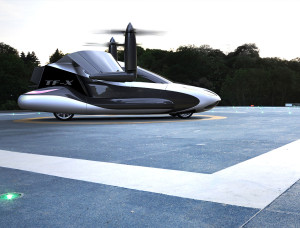 The Price can be expected as a high-end luxury car. Most accurate pricing info will be announced in 2019.