Car Manufacturers have come a long way in the development of Electric Vehicles. Ever since the start of EVs for commercial use, innovations have come up to make desirable improvements to the design, performance, features etc each year. Every year brings newer features, luxury designs and improved performance in terms of speed, maintenance and charge time. The upcoming year brings in its own fleet of Electric Vehicles that will change the automotive industry. If you weren't already a fan of these eco-friendly vehicles, there might be something in the upcoming years that may change your mind. Here are some of the upcoming electric cars set to be launched in 2019.
1. BMW i3
The new BMW i3 will be available in four versions –i3, i3 REx, i3s and i3s REx. It's main upgrade is the new battery cells which now store up to 42.2 kWh compared to the previous 33.2 kWh which is nearly 30% improvement from the 94 Ah model. The BMW i3 goes up to 246 kms in real time driving.
2. Audi E-tron Sportback
The E-tron Sportback is the 2nd fully electric car by Audi. It has a battery capacity of 95.0 kWh and can go up to 130 mph in terms of speed. It also has a charge time of 9h 15m. However, the fast charger charges the car in up to 30 mins.
3. Volvo XC40 Electric
The Volvo XC40 Electric is an electric version of the Volvo XC40. It is expected to be cheaper than both Jaguar I Pace and Tesla Model X which are major competitors. The predicted drive time is 250 miles on a single charge. It is one of the first cars from the company to not boast a ginormous starting price and yet it is expected to be profitable.
4. Mercedes-Benz Generation EQ
The Mercedes EQC is expected to have a price of around £55,000, making it cheaper than its competitors such as the Jaguar I-Pace and Tesla Model X. Mercedes predicts that you should be able to get up to 280 miles from a charge. Plugging it into a more powerful DC charger will be able to return a battery with 10 percent charge to 80 percent in 40 minutes. The EQC offers five driving modes including Max Range, which coaches you to drive the car as economically as possible whilst making use of important features in the car.
5. Aston Martin Rapide
The Rapide is powered by a 5,935 cc V12 engine, generating a maximum power output of 351 kW and torque of 443 lb⋅ft. The vehicle is rear-wheel drive and has a 6-speed Touchtronic II automatic transmission. The Rapide can reach its top speed of 303 km/h (188 mph), and can accelerate from 0 to 100 km/h (62 mph) in 5.2 seconds.
6. Jaguar X5
The new XF 300 Sport gives buyers a wider choice of features. Customers can choose from Yulong White, Indus Silver, or Santorini Black colors. The XF delivers a smooth ride with precise handling, due to its sport suspension and drive-assist features. However, top speed remains at 121 mph.
7. Tesla Model S
Sitting below the Model S and the Model X SUV in the company's range, it's most likely to be priced from about £35,000 when it arrives in the market next year. It is the third car to join Tesla's current queue. The Tesla Model 3 has a claimed range of 220 miles and can accelerate from 0-60mph in 5.6sec and tops out at 130mph. Model 3's acceleration is brisk and seamless.
8. VW e-Golf
The e-Golf is a version of the brand's popular hatchback replacing turbocharged gas engines with an electric motor and a big battery pack that promises a 200 km driving range. Volkswagen faces a bit of competition for the e-Golf. The most noteworthy is the Chevrolet Bolt with nearly a 400-km driving range and the Ford Focus EV promises about 185 km.
9. Jaguar I-Pace
The I-Pace will be the first real challenger to the Model S and Model X from Tesla. The I-Pace will soon be joined by an Audi Q6 e-tron, a Porsche Taycan EV, a Mercedes EQ electric SUV, and maybe even by a more compact Tesla Model Y crossover. For now, it's the first electric SUV delivered by a traditional car brand.
10. Hyundai Ioniq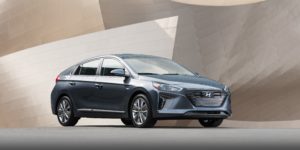 The Ioniq was built as a car that can accommodate different electrified power sources. It comes in 3 versions: a pure electric only car, a hybrid (gas and electric) and as a plug in hybrid (electric only or gas and electric). The adaptable Ioniq has a driving range of 124 miles and gets 59 miles per gallon in the hybrid model and is estimated to go 29 miles before the gas engine starts.