We have successfully completed eleven months and we are at the end of the year i.e., December 2022. Most of the EV manufacturers are satisfied with their sales in this ev industry up to date and Many of them are aiming at further profitable sales for this December.
In this regard, most of the electric two-wheeler manufacturers, Ather, ola, Hero Electric, Bgauss and others announced some exciting offers for this month. Let's go through the offers which have been offered by these manufacturers.
1. Ather:
Ather announced some cool offers under the name of "Ather electric December". Those who are willing to buy an Ather Electric scooter this December can be availed extended battery warranty costing 6999 at a single rupee. That means a December customer can get 5 years or 60,000 km warranty on a scooter battery for only one rupee.
Ather has tied up with IDFC Bank to provide better financing options to their customers.  From now, customers are given the option to pay a down payment as low as 5% and can claim loan repayment periods of up to 48 months. And the monthly EMI starts from R.S. 3,000. To know more about these financing options, please visit your nearest Ather experience center.
And now it's time to know about the exchange offer announced by ather for their Electric scooters, The petrol scooter which has been used by you can be exchanged for a new ather electric scooter. When you are ready to take the exchange offer, an ather representative will valuate your old scooter and if you are satisfied with the valuation done by the representative, you can pay the rest of the amount to get a new one. You can also get a 4000rs exchange bonus or extended warranty free with your exchange.
Ather has also announced that those who buy their scooters this December, can get free access to their Ather grid fast charging stations till next December, which are currently free for everyone until this December 31st.
These are some exciting offers announced by Ather energy for this December. Ather is also being focused on the expansion of its dealership network all over India. They are planning to open 150 experience centers in 100 cities by march, 2023.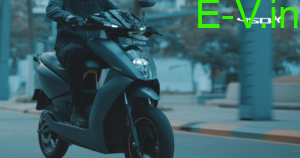 2. OLA Electric:
Now next comes OLA, Ola Electric CEO, Bhavish Agarwal has also announced some offers for this December in the name of "December to remember".
The discount of Rs.10,000 on ola s1 pro which has announced earlier this festive season will be continued. You can get ola s1 pro at 1.3L Ex-showroom till December 31st. And the introductory price of ola s1 will be continued up to  December 31. Currently, ola s1 is offered at an introductory price of s. 99,999. As would the prices of these two models increase after 31st December?? I don't think so.
The next offer is about financing options. You can get ola Electric scooters with a zero down payment option and monthly EMI starts at Rs. 2499 and the interest rate starts from 8.99%. And for customers who are going to buy ola scooters, this December can get one-year service and access to the ola hyper charging stations for free till December 2023. OLA Hypercharges are free to use even now until the revealing of the new price policy. But for this December customers, it's free till December 2023 even if the new price policy reveals. And ola came up with a refer and earn program in which existing ola owners can earn 4500rs by referring ola scooters to 3 of their friends. Each valid refer gets 1500rs as ola money in the ola app which can be used for ola cab service or to use hyper charging stations in the near future. A single Ola owner can refer up to 3 new users.  And ola has announced that they are going to provide ola s1 pro for 10 lucky winners by way of a gift to those who test rides ola scooters this December by visiting their experience centers.  And they are providing one-day delivery to those who buy their electric scooters directly from their newly opened experience centers.
These are the OLA December to remember offers and Ola is going to open 100 experience centers by December 31st and 200 experience centers by march, 2023.
3. Bgauss:
Bgauss has announced exchange offers on their Electric scooters. You can take your existing petrol vehicle to Bgauss Dealership and based on their valuation rate, you can pay the remaining amount and can bring a brand new Bgauss Electric scooters Home. Currently, the Bgauss lineup includes Bgauss D15, B8 and A2 models. You will be given the option to choose between these three models and by paying the rest of the amount on your valuation you can bring one of these Bgauss models home. And you can now buy these Bgauss D15 high-speed electric scooters on Flipkart. You'll get extra benefits like an instant discount on selected Bank cards and No cost EMI if you buy online.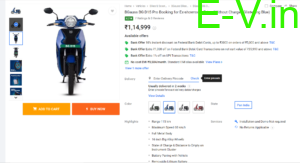 4. Hero Electric:
Hero electric is going to announce a special limited-time Price on their best-selling Electric scooter, i.e., Optima CX. Currently, Hero optima CX is offered at an EX-Showroom price of R.s. 85,190. The special price may include a discount of 5 to 6 thousand Rupees. The Special price may be applicable to a Limited batch of units and for a limited period of time. The discount prices are not revealed yet, So Head out to your nearest Hero Electric dealership if you are planning to buy Hero Optima this December.
5. Ampere:
Ampere is offering No interest on EMI options on the purchase of their electric scooters. So the customers can avail of Zero interest on EMI from now for their two models, Magnus EX and Reo. Ampere being the second best-selling brand this November is planning to launch five new electric vehicles in the Indian market. These five vehicles include two as well as three-wheelers. The five vehicles are going to unveil at the Auto Expo 2023. Ampere vehicles are now available to buy on Flipkart. Online buyers can now get additional discounts on selected bank debit and credit cards.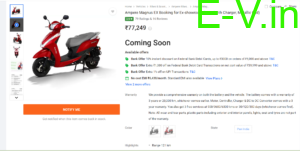 6. Okaya:
Currently, Okaya sells a high-speed electric scooter, Okaya Fast and a low-speed electric scooter, Okaya Freedum in India. So from now, Okaya scooters can be brought online via Flipkart. So the online buyers get R.s.3000 instant discount and No Cost EMI options. To attract customers to the online platform, Okaya announced that whoever buys their scooters online can get a chance to win a Car and announced an assured gift on every Purchase.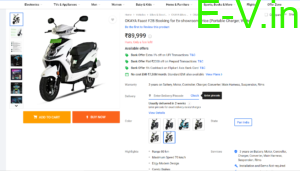 So, These are the companies and their offers for this December month. Seems December is going to be a colourful month for the companies as well as Ev consumers as both are getting Benefitted from these offers.
If you are an EV manufacturer or EV Dealer or EV Supporter who want to share news related to electric vehicle on our website, please send an email to crm@electricvehicles.in

For the latest electric vehicles news, follow electricvehicles. in on Twitter, Instagram, Facebook and our YouTube Channels English, Hindi, Telugu , Banlga , Kannada &  Tamil