The 125km range Odysse Vader electric bike is launched in India for 1.10 lakh
---
India's Electric vehicles market is booming with the launch of the country's first motorcycle with a 7-inch Android display, the Odysse VADER Electric Bike. Despite its technological, innovative, and affordable price tag, this motorcycle offers sustainable mobility for all individuals at an affordable price.
Let's take a closer look at the specifications and performance of VADER by Odysse.  
The Odysse VADER e-bike has many features that set it apart from its competitors. Available for Android, the Odysse EV app provides bike location services, anti-theft features, geofencing, security features, track & trace, low battery alarm, and more for easy navigation. The e-bike also features a 7-inch Android display, an 18-liter trunk, Google Maps navigation, OTA updates, and Bluetooth connectivity, making it a convenient and fulfilling means of transportation. 
In my opinion, the most appealing aspect of this newbie is its colors. There are five exciting new colors available for this electric motorcycle.
This exciting newbie in the realm of e-motorcycles comes in Midnight Blue, Fiery Red, Glossy Black, Venom Green, and Misty Grey.
The Odysse VADER electric motorcycle has been launched in India at a starting price of Rs 1.10 lakhs.
The highly anticipated Odysse Vader can now be pre-ordered on the company's website and at any of its 68 points of sale nationwide. With a minimum booking of just Rs 999, you can book your first place to own this state-of-the-art electric bike. Bike deliveries will begin in July 2023.  
Taking a closer look at the Vader, let's see what makes it different from other bikes on the market.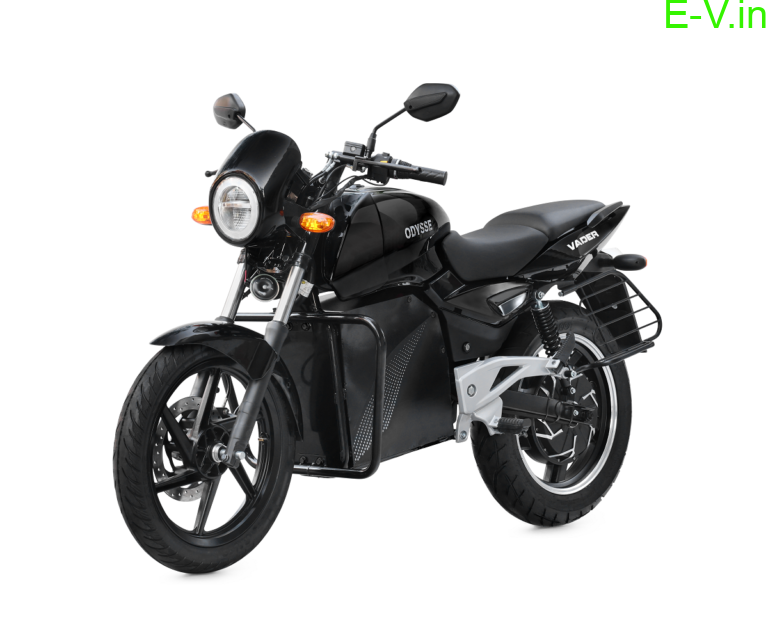 Android display on the 7-inch instrument cluster:
Vader's large digital display makes all the difference. It gives riders a real-time experience and allows you to track all bike activity and bike updates such as range, charge time, and modes.
Google Navigation:
Not only that, Vader also comes with Google Maps navigation to help riders explore unexplored corners of the world.  
Specifications of Odysse Vader
| | |
| --- | --- |
| Battery pack      |  3.7 kWh lithium-ion |
| Torque               | 170 Nm |
| Range              |   125km/charge on Eco mode |
| Top speed           | 85kmph |
| Motor capacity     | 3 kW |
| Modes of the bike  | Eco, Normal, and Sports |
| Charging time     | The bike can be charged completely within 4 hours |
| Colors              | Midnight Blue, Fiery Red, Glossy Black, Venom Green, and Misty Grey |
| Price                    |  1.10 Lakh |
| Warranty            | 3 years on the battery & Powertrain |
Odysse has extensive plans to expand its dealer network to over 150 stores by the end of the year. The ambitious move is expected to boost the company's sales by 300%. This will make it one of the fastest-growing premium electric vehicle manufacturers in India. Furthermore, it promises to launch an electric scooter in the third quarter of this year.  
In a statement about the launch of VADER, Nemin Vora, CEO of Odysse electric vehicles, said: "Our goal is to make sustainable and affordable mobility accessible to everyone. VADER believes that bringing cutting-edge technology to market at unbeatable prices will make transportation more efficient for all riders. Odysse's upcoming VADER is a convenient yet fulfilling way to travel by offering seamless connectivity and powerful ride features. This gives riders complete control over their journey."
Based in Mumbai, Maharashtra, Odysse has a portfolio of energy-efficient vehicles powered by lithium-ion and lead-acid batteries. Vader is its second e-bike to join the portfolio after EVOQIS. From an electric scooter perspective, the company has seven electric scooters with different price points and capacities.  
Odysse VADER offers an unparalleled combination of cutting-edge technology, affordability, and sustainability, making it a game changer in the Indian electric vehicle market. With plans to launch its electric scooters in Q3 2023 and expand its dealer network, Odysse Electric Vehicles is poised to revolutionize people's attitudes towards green transportation in the years to come. It's exciting to welcome new members to the e-bike segment.  
If you are an EV manufacturer (or) EV Dealer (or) EV Supporter who want to share news related to electric vehicles on our website, please send an email to crm@electricvehicles.in

For the latest electric vehicles news,

follow electricvehicles.in on 

and our YouTube Channels