India's automotive market witnessed multiple electric vehicle launches in 2022 due to the growing popularity and sales of electric vehicles. As well as the launch of electric vehicles, a number of new ones will also be unveiled in 2023.
Even though India still lags behind in terms of EV infrastructure, people are slowly and steadily starting to accept EVs as an alternative to ICE cars. Here are the top 5 best and most affordable electric cars in India in 2023.
List of Top 5 best and affordable electric cars in India in 2023 
PMV EaS E
Tata Tiago EV
Citroen eC3
Tata Tigor EV
Tata Nexon EV Prime
PMV EaS E
PMV Electric has launched its EaS-E electric vehicle in India with nearly 6,000 pre-orders worldwide. This two-seater EV will be India's cheapest electric car. 
PMV EaS E price will increase from Rs. 4.79 lakh to Rs. 4.79 lakhs. PMV EaS E is offered in one variant. The base model of EaS E is Electric and the top variant PMV EaS E Electric comes at a price of Rs. 47,900 rupees.
The city-centred electric car features a small 48-volt battery paired with a single electric motor producing 13.6 hp and 50 Nm. This setup comes in three range numbers. 120 km, 160 km and 200 km with a top speed of 70 km/h. The battery can be recharged within 4 hours using a standard wall charger.
electric vehicles under 10 feet are equipped with a Bluetooth-enabled infotainment system, digital LCD instrument cluster, keyless entry, steering wheel-mounted controls and LED headlights, and lock/unlock doors, windows, and air conditioning. It has a remote vehicle function.
Safety-wise, it has seat belts for both passengers, a driver's airbag, cruise control, parking sensors and a rear-view camera. 
The PMV EaS-E has no direct competitors given its price, but could be an affordable urban alternative to the MG Air EV. 
Tata Tiago EV
Tiago, Tata's entry-level product, is a popular choice in its segment and contributes significantly to the company's overall sales in India. Back in January 2020, Tata Motors introduced an updated version of its Tiago to the country with a number of enhanced looks and features. A variety of hatchbacks are available, including: XE, XT, XZ, XTA, XZ Plus, XZA, and XZA Plus. There is a two-tone option available for the XZ Plus and XZA Plus models.
To distinguish it from its predecessor, the updated model features an updated grille and chrome strip, streamlined bumpers with air dams and circular fog lights, and high-variant two-tone alloy wheels with black accents. Overall, the vehicle retains familiar design cues, with no cosmetic tweaks for freshness.
The interior has been slightly updated from its predecessor. Notable changes include a touchscreen infotainment system with Android Auto and Apple CarPlay. In terms of safety, dual airbags, ABS, EBD, rear parking sensors, seat belt reminders and a high-speed warning system are standard.
Under Tiago's hood is a BS6-compliant 1.2-liter three-cylinder petrol engine that puts out 84PS at 6,000rpm and 113Nm of torque at 3,300rpm. The engine is available in both a 5-speed manual and a 5-speed AMT. 
Citroen eC3
On 27 February 2023, Citroen eC3 was launched in India as a new car model.
The eC3's exterior and interior look just like its ICE brothers. This is because the manufacturer produces both cars side-by-side and underpins them on the same platform. Inside, it features a two-tone dashboard, digital instrument cluster, and contrasting cloth seats. Aside from that, the top-of-the-line variant also comes with a 10.2-inch display with wireless Apple CarPlay and Android Auto.
 The eC3 EV is powered by a 29.2kWh battery pack that powers an electric motor, producing 56hp and 113Nm of peak torque. The eC3 has a claimed range of 320 km and supports 15 amps and a DC fast charger.
There are two versions of the eC3 available: Live and Feel. There has never been any crash testing conducted on the Citroen eC3. It is important to note that the Citroen eC3 is an alternative to the Tata Tiago electric vehicle. 
Tata Tigor EV
Tata Motors has launched its latest Tigor EV in India in November 2022. The revised Tigor offers a longer range, more features and a more attractive body color. Unlike the previous model, it will now be available in four variants of its: XE, XT, XZ+ and XZ+ Lux.
The Tigor EV inherits the same design as its predecessor. It differs from the ICE Tigor with its distinctive wheels and EV-specific blue design elements. Also, Tata now offers an exclusive Magnetic Red paint finish. Additionally, the Tigor EV comes with a puncture repair kit and automatic headlights and wipers.
The interior is stylistically unchanged. However, it features a leather-wrapped steering wheel and fresh leather seats. It also benefits from Tata's ZConnect connected car technology with smartwatch compatibility, multi-regenerative modes, cruise control and TPMS. The Tigor EV is powered by the same 26kWh battery and electric motor. However, the current ARAI certification range is 315 km. The electric motor produces 74 horsepower and 170 Nm of torque. 
 Tata Nexon EV Prime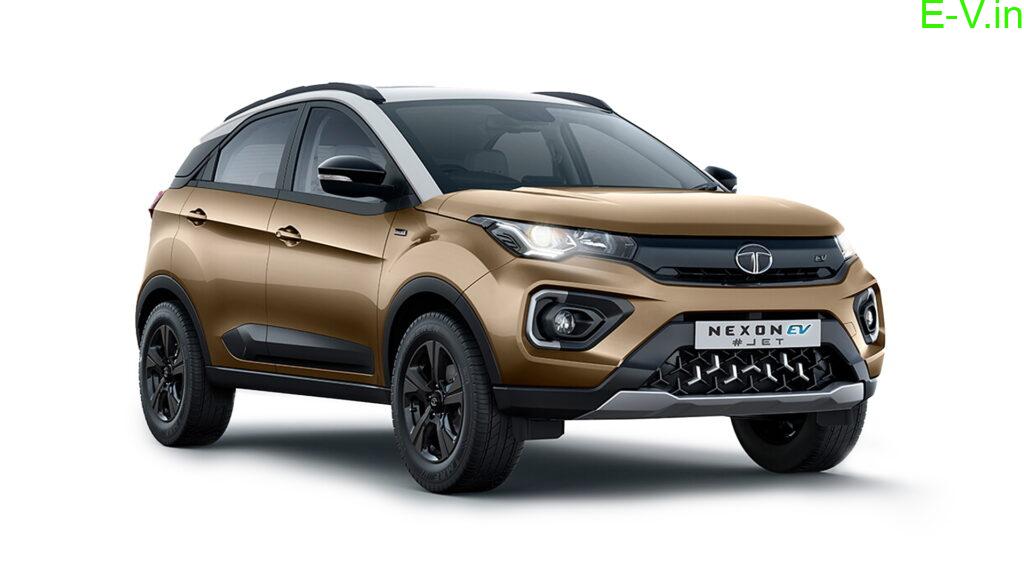 The Tata Nexon EV was renamed and relaunched as the Tata Nexon EV Prime on July 12, 2022. The electric compact SUV comes in three variants: XM, XZ+, and XZ+ LUX. Interested customers can choose from three color options: Intensity Teal Blue, Pristine White, and Daytona Gray. Tata Motors offers the Nexon EV Prime with its standard 3-year/12,500km warranty and an 8-year/16,000km battery and motor warranty.
Nexon EV Prime is based on Impact Design 2.0. The apron is accentuated by a sporty radiator grille with a characteristic three-arrow element under the bumper, and the distinctive humane line between the headlights. Higher versions are equipped with a sunroof and rain-sensitive windshield wipers at the front. A supplementary set of aluminum wheels is also available to differentiate it from the regular version.
The Nexon EV Prime features an Altroz ​​flat-bottom steering wheel and an unobtrusive instrument cluster that dumps information like charge level, range, battery usage and turn-by-turn navigation. The equipment list also includes a 7-inch touchscreen infotainment system and automatic climate control. The Nexon EV is the safest electric SUV made in India, with a five-star safety rating in GNCAP crash tests. As for safety equipment, double airbags, ABS including EBD, and cornering stability control are standard equipment.
With the update, the Tata Nexon EV Prime comes with multiple playback modes, cruise control, smartwatch connectivity, an indirect tire pressure monitoring system, automatic brake light activation during playback, and a 110-second charge timeout.
The Nexon EV Prime is powered by a three-phase permanent magnet synchronous motor combined with a 30.2 kWh lithium-ion and water-cooled battery pack, producing 127 hp and 245 Nm. The Nexon EV has an ARAI-certified range of 312 km and is IP67 certified. Charging options include an included 3.3 kW charger that charges the battery from 20-100% in 8 hours and a 25 kW fast charger that charges the battery from 0-80% in 60 minutes.  
Watch the video for details 
If you are an EV manufacturer (or) EV Dealer (or) EV Supporter who want to share news related to electric vehicles on our website, please send an email to crm@electricvehicles.in

For the latest electric vehicles news,

follow electricvehicles.in on 

and our YouTube Channels