In India the use of electric auto-rickshaws
is increasing day by day over 1.5 million electric three-wheelers
is been in used today and India has become its home. India is expecting 1 lakh units sale of electric three-wheelers
every month. In this article, you will read completely about top 10 electric auto-rickshaws. 
According to Society of Manufacturers of Electric Vehicles (SMEV) data, the sales of electric three-wheelers
have been increased to 21% in 2018-19 with 6,30,000 units whereas the sales in 2017-18 recorded 5,20,000. But with the market growth, the sales of electric three-wheelers
will grow 10 lakh rupees by 2027 which means 29.61% increase in growth.
As per the federation of automobiles dealers associations electric three-wheelers
sales in 2020 have come down to 69.5% 16,857 units due to covid 19 pandemic whereas in 2019 the sales of electric three-wheelers
were recorded 55,293 units. But after unlocking the economic situations improving slowly the market is picking up.
During the crisis times to some of the manufacturers worked continuously for the green cause. Recently Mahindra Electric has launched its Treo Zor electric three-wheelers
cargo EV with a price tag of 2.73 lakh (Ex-showroom Delhi) and it is available to the customers since December 2020.
Likewise, Hyderabad based ETO motors also has signed an MoU with the Telangana government for setting up an electric three-wheeler manufacturing facility. In the next five years, Rs 150 Crores investment will be made for this facility.
Delhi based Omega Seiki Mobility has also launched its dealership in Telangana. The company has already installed several charging stations and since 3 years operating.
Kinetic Safar has also launched India's first high-performance electric cargo three-wheelers Kinetic Safar Jumbo. So let us now look in details about India's top electric auto-rickshaws.
Mahindra Treo
Mahindra Treo
is India's leading electric auto rickshaw manufacturer and it recently launched its Treo in Telangana and Andhra Pradesh. It has made some improvements in the Mahindra Treo
. It is powered with an AC motor and its top speed is 45 km/h.
It accelerates 0-20 kmph in just 2.3 seconds and is equipped with a 7.37 kWh battery. It provides a range of 130 km. Its battery can be charged using a 15 A portable charger and it takes 3 hours and 50 minutes of time to charge it to full. Its running cost is also less just 50 paise per km you can save your 45,000 rupees yearly from your petrol or diesel fuels.
Its ex-showroom price is 2.73 lakh rupees and its on-road price is 3 lakh rupees.
Ape e-city
Ape E-City electric auto-rickshaws
is from a famous three-wheelers brand Piaggio Vehicles. Ape E-City
is equipped with 5.4kW motor and is powered with a 4.5 kWh. Its battery can be charged in 3 hours and 50 minutes and it comes with a battery swapping option. Its provides a top speed of 45 km/h and a range of 68 km. It gives a 29 NM of torque. Its running cost is 2 rupees per km hai and weighs 389 kgs.
It comes with 1 lakh km or 36 months ki warranty with a price tag of 1.97 lakh rupees.
Bajaj RE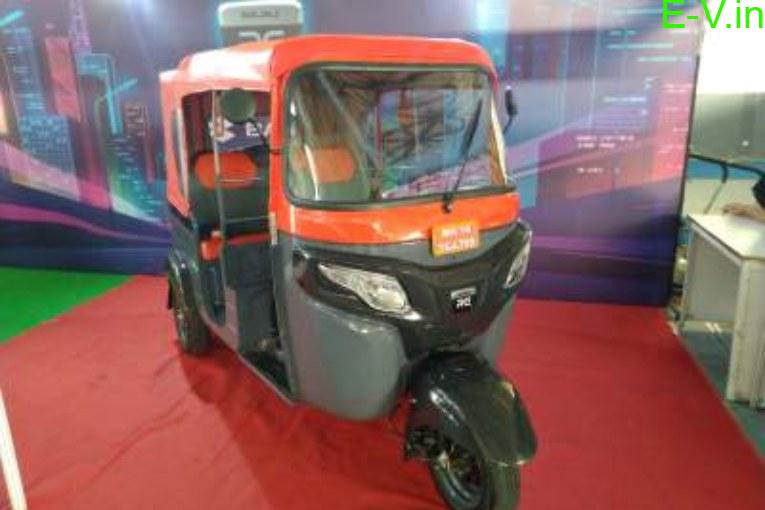 Bajaj RE electric auto-rickshaw
is from a pioneer automobile brand Bajaj Auto. Bajaj Re electric comes with a powerful 4.3 kW motor which is powered with a 48-volt swappable Lithium-ion battery. It can be charged in 6 hours and can give 120 km of range and a top speed of 43 km/h.
It is priced between Rs 1,65,552 to 2,69,383 rupees.
Kerala Neem G
'Kerala Neem G' auto-rickshaws
from the public sector-run Kerala Automobiles Limited. The government of Nepal will procure these e-autos through Himalaya Motrrad Private Ltd. It is the first export for KAL for electric e-auto rickshaws by a public sector undertaking of a State. It aims for 500 electric autos in Nepal annually and plans are to export KAL's e-auto to Sri Lanka, Bangladesh and Kenya.
It provides a range of 80 to 90 km on a full charged and can be charged in 3 hours and 55 minutes. Its German technology battery can be charged using a three-pin plug.
'Kerala Neem G' auto-rickshaws
is priced at ₹2.85 lakh.
Mauto Electric 
Mauto Electric Auto Rickshaw
is from Makkal Auto three-wheeler company. These electric autos can give 100 km of range on a single charge with a top speed of 60 km/h.
During the Covid pandemic, the Makkal Auto has provided various services to the people through its electric autos such as business on wheels where it sold vegetables and distributed free medicines, masks and drinking water also.
It provided auto services to around 68 pregnant women in Tamil Nadu during the lockdown and not only this it has also distributed food for Homeless people along with the eco-green foundation.
Kinetic Safar
Kinetic Safar electric auto
is from India's leading brand Kinetic Green. The Kinetic Safar electric auto
is available in both lead-acid and li-ion battery. It comes with an 850W motor along with a three-speed mode selector to optimize the range per charge. Its top speed is 25 km/h and can provide a range of 80-100 km per charge. Its battery capacity is 12V, 100AH. Its seating capacity is one driver plus four passengers.
The Price is Rs. 1.38 lakh and it's already launched in India.
eShaft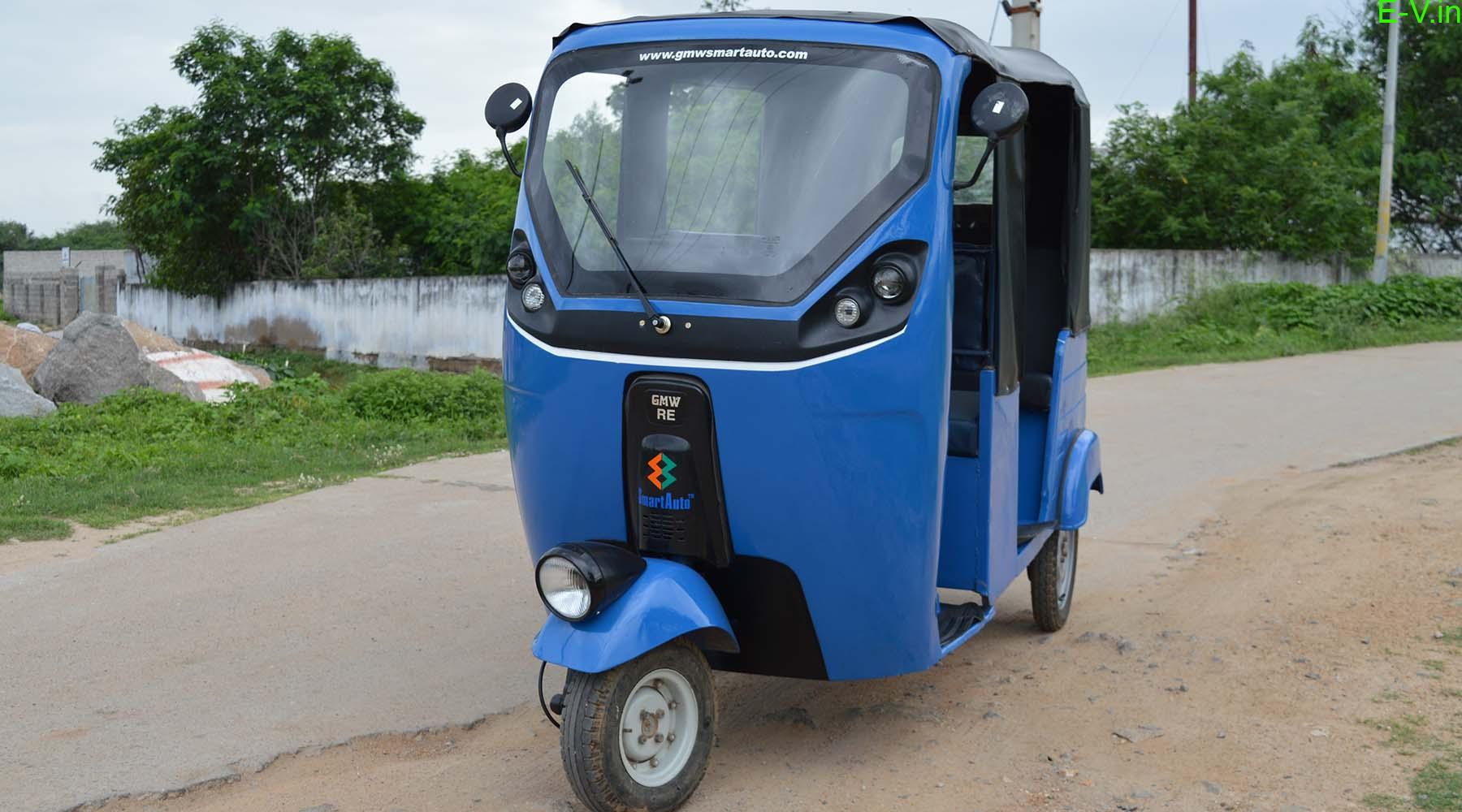 eShaft electric auto
is from Hyderabad based Gayam Motor. It comes with a 1.5KW Lead Acid solar chargeable battery and provides a range of up to 60km.
It is an efficient motor 48v 1520W with mileage ranging between 60-90kms per full charge. It has a gross weight of 675 kg with a battery capacity of 48v 120Ah, 5-6hours Charging Time (Lead-acid). Its max speed is 25 km/h.
eShaft electric auto
is price starts from 1,40,000 rupees.
Mahindra e-Alfa Mini
e-Alfa Mini rickshaw
is from India's pioneer manufacture Mahindra Electric. e-Alfa has 4+1 seating space, it can carry 5 people at a time. It is best suited for last-mile connectivity.
It is available in black and red colour with a motor powered by a 120Ah battery which gives a range of 85 km on a single charge with a top speed of 25 km/h. Mahindra is providing a 2-year warranty and offering a one-time free battery replacement.
The e-Alfa Mini rickshaw
priced at Rs. 1.12 lakh (ex-showroom, Delhi).
Rith Auto
Rith electric Auto
is from Andhra Pradesh based startup SSV Technologies. It works with a 2kW BLDC Motor. This electric auto comes with a double rear drum brake at the rear and its loading capacity is 380 KGS to 750KGS.
It gives a top speed of 45km/hr and a range of 100 km on a single charge. It is powered by a 60v 80Ah lithium-ion battery. It takes only 1 to 2 hours to charge its batteries and the charging cost is only 5 Rupees. The company is providing 8 years of warranty on this electric auto.
The price of this Rith electric Auto
is 2.5 Lakhs.
Urban ET
 
Urban ET is a passenger SmartAuto from Gayam Motor Works. It is powered by a li-ion battery. It gives a range of 110 km on a single charge. It offers 12 months of warranty on the vehicles. It is having a loading capacity of 500 kg and a seating capacity of 3+1. Its lithium-ion battery chargers in 3 hours and its top speed are 55 km.
Its price starts at 2,75,000 rupees.
If you are an EV manufacturer or EV Dealer or EV Supporter who want to share news related to electric vehicles on our website, please send an email to [email protected]