Patience finally paid off; First scooter rolled out at Simple Vision 1.0
---
One more priceless stone marked in Simple Energy's unending journey to victory. Simple Energy has announced finally their first scooter roll out at their simple vision 1.0. they are all set for the deliveries to get started.
Bangalore-based start-up Simple Energy, after the great opening ceremony with lot of celebration of their first manufacturing facility, Simple Vision 1.0 is now finally ready to put an end to the customers' waiting.
Founder and CEO of the company has announced the victory path opened for their future by Frist scooter roll out at simple vision 1.0. They have all set to kick start the deliveries soon. They have much more to share and to show which will take place on May 23rd at 2.30 pm.
This new factory covers an area of 1,000 square meters and will manufacture the company's Simple One electric scooter. The launch of Simple Energy's electric scooter was originally scheduled for 2021, but it has been delayed due to safety-related issues. The company started accepting pre-orders in August 2021, but final production was delayed.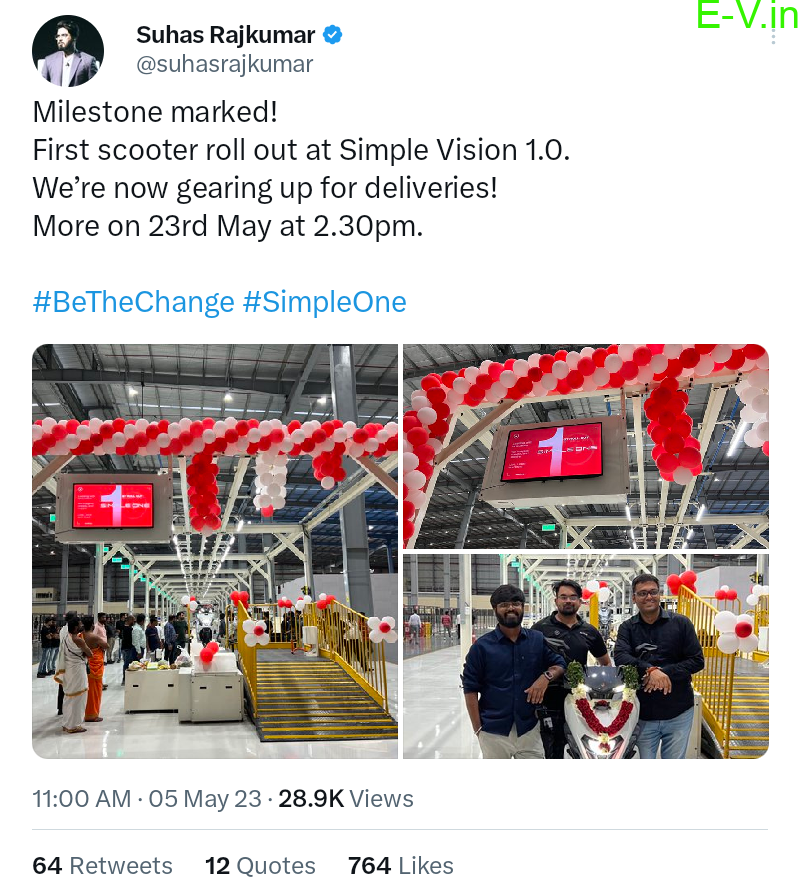 On the big day of the company the founder and CEO of Simple Energy, Suhas Rajkumar expressed his extreme happiness and gratitude towards everyone on behalf of the company. And now also he is the one who announced this milestone achievement of their career to everyone through social media platforms.
At the inauguration ceremony of Simple Vision 1.0 he stated that Opening of Simple's first production facility in Shoolagiri. The TN region will serve as the starting point for future expansion plans. With the right and experienced talent, we developed the best R&D strategy and set up a fully equipped factory to start production of the Simple One electric.
In the first phase, an initial investment of Rs 100 crores was made in the building of the Simple Vision 1.0 facility. Reports were said that the plant employs more than 700 people, including general assembly lines, electric motor manufacturing, battery manufacturing, and an in-house vehicle testing facility.
In addition to the fact that this facility is a production facility, it is also a research and development center. Sustainability is a step forward. EV ecosystem building is one of the company's priorities. It is important to note that in addition to facilitating delivery, it also restores the trust of the customer. In order to make a difference, the company is relentless in its pursuit, symbolized by the factory where it resides. Simple Energy is not only pushing the boundaries of EV technology but leading the way toward a greener, more sustainable future with Simple Vision 1.0.
And now in just a few more days, the much awaited moments will be here. As the customers wrote in the tweet of the company CEO's, it is patience finally paying off.
If you are an EV manufacturer (or) EV Dealer (or) EV Supporter who want to share news related to electric vehicles on our website, please send an email to crm@electricvehicles.in

For the latest electric vehicles news,

follow electricvehicles.in on 

and our YouTube Channels