Harrier-derived front and fake exhausts spotted on Tata Punch EV
---
Tata Motors is currently at the forefront of the electric vehicle sector in India. They have introduced the Tigor EV, Tiago EV, and Nexon EV models. The indigenous manufacturer is set to release the electric version of the Punch shortly. Recently, a testing prototype of the new Punch EV was seen during its testing phase.
It's noteworthy that Tata Motors is concealing the fact that they are currently testing the Punch EV. By looking at the pictures, it's evident that the test model has fake exhaust. Additionally, the test car wasn't outfitted with rear disc brakes, which were previously observed in another test model. It appears that Tata is experimenting with both variants of the Punch EV.
The most significant modification in the vehicle is its front fascia, which has been completely redesigned. It appears to have taken inspiration from the updated versions of the Harrier and Safari, featuring a vertically stacked headlamp setup with LED projectors. As an electric vehicle, Tata will incorporate a distinct bumper design with vertical strips, similar to the design seen on the recently released Nexon.ev.
We can observe some noticeable changes, such as the installation of bigger outside rearview mirrors that seem to be inspired by the Harrier and Safari models. These mirrors are expected to provide a clearer view of the surroundings behind the vehicle. Additionally, the car also features a fresh set of alloy wheels on the sides.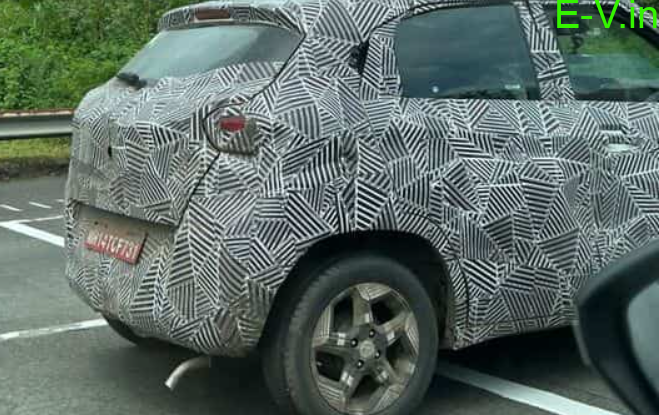 The interior of the vehicle will receive an upgrade, featuring a new two-spoke steering wheel with a digital logo that was first seen on the new Nexon. There are two options for the infotainment system, either a 7-inch unit or a new 10.25-inch unit. The Punch EV will be equipped with a rotary-style gear shifter and a redesigned instrument cluster that displays EV-related information. Additionally, there may be an electronic parking brake included.
If you are an EV manufacturer (or) EV Dealer (or) EV Supporter who want to share news related to electric vehicles on our website, please send an email to crm@electricvehicles.in

For the latest electric vehicles news,

follow electricvehicles.in on 

and our YouTube Channels