Another milestone for PMI Electro Mobility
---
PMI Electro Mobility, India's largest electric bus manufacturer, has announced the delivery of its 1000th electric bus. And this is a great achievement for the company, as it is the first company in the country to reach this milestone. This is like a new feather in the crown of PMI's success.
This phenomenal delivery was made to the Uttar Pradesh Department of Transport as part of the FAMEII program. PMI's 1,000th electric bus is the Federal Minister of Heavy Industry Dr. Mahendra Nath Pandey and Minister of State for Heavy Industry, Krishan Pal Gurjar.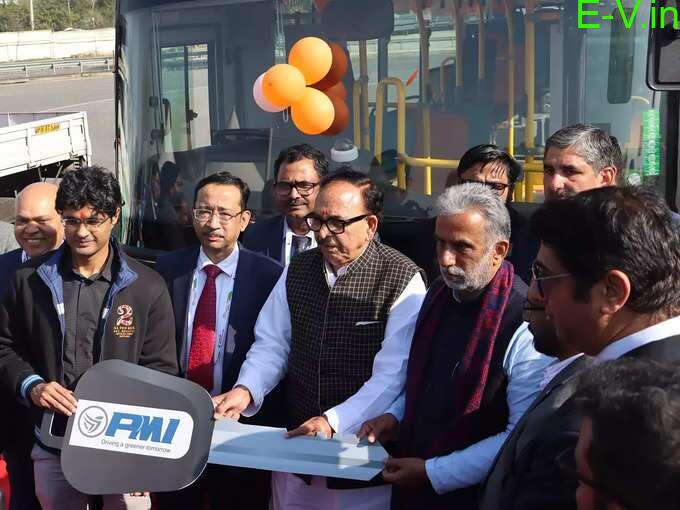 This new achievement strengthens the company's presence in India and contributes significantly to the government's goal of achieving zero carbon emissions. In this way, PMI has further consolidated its leading position in the electric bus segment.
PMI claims to operate 1000 of these buses in 26 cities across India. Comparing these electric buses with diesel buses, CO2 emissions can be reduced by about 3.4 million tons over 12 years. EAC electric buses can also save 28,000 kg of CO2 each year. By comparison, a comparable bus would emit about 100 tons per year.
Buses serve cities such as Delhi, Shimla, Rajkot, Bhubaneswar, Lucknow, Kolkata, Agra, Mangalore, Prayagraj, and Ladakh.
These buses are equipped with features such as RTMS (Real Time Monitoring System) and CCTV. Besides these features, these electric buses offer passengers a safe ride. Since it is electric, torque comes out immediately at 0 rpm. This makes these buses fast from the start and allows them to master difficult road conditions with ease.
This Indian-made company has a factory in Dharuhera, Haryana. PMI also plans to set up its second unit in Pune, Maharashtra. Also, battery assembly for bus manufacturers is done exclusively by women. In addition to using electric buses, the company has also developed an electric bus depot with a capacity of 44 MW. These depots not only help load the buses but also maintain them.
Naga Satyam, Director of PMI Electro Mobility, said: We are proud that in the country he was the first manufacturer to deliver 1,000 electric buses, providing more and more people with a green public transport system. This is a testament to our manufacturing and technical expertise and reflects our commitment to developing a robust electrified public transport system in India. With this 1000th milestone, PMI Electro Mobility looks forward to continuing to contribute to a greener future through future projects. "
"PMI, which operates 1,000 electric buses in 26 cities across India, has made a significant contribution to reducing pollution. In addition, our electric buses with almost no downtime provide a reliable service for travelers. , will not only promote the mobility needs of consumers but also support the State-owned Transportation Company (STU) as it seeks to adopt electric mobility," added Satyam. 
If you are an EV manufacturer (or) EV Dealer (or) EV Supporter who want to share news related to electric vehicles on our website, please send an email to crm@electricvehicles.in

For the latest electric vehicles news,

follow electricvehicles.in on 

and our YouTube Channels