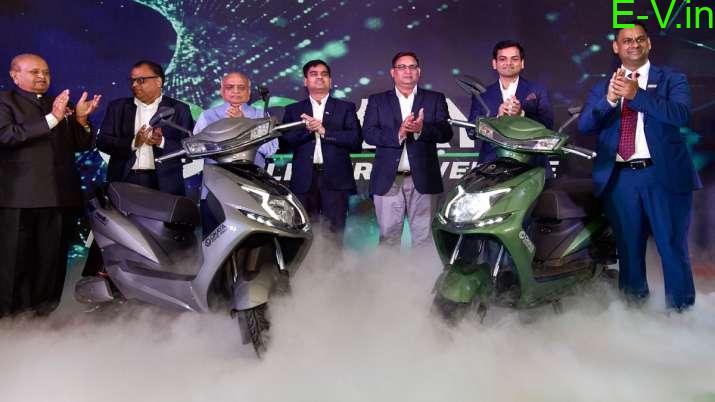 Okaya launched Freedum electric scooter priced at Rs 69,900
Okaya Group an energy storage solutions provider has recently launched a new electric scooter 'Okaya Freedum' with a price tag starting at Rs 69,900. It's a low-speed electric scooter that comes with two battery options lead-acid battery or a lithium-ion battery.
Okaya Freedum electric scooter
While we look for its technical specifications, it provides a top speed of 25 kmph. Its lead-acid battery provides a range of 50-60 kilometres and 70-80 kilometres for the lithium-ion model. The lead-acid model can be charged in eight to ten hours and the lithium-ion model's charging time is four to five hours.
The Okaya Freedum LI-2 electric scooter comes with a 150kg BLDC hub motor producing 250W, it gives a range of 70 80km. The Okaya Freedum LA-2 electric scooter comes with the same 150kg BLDC hub motor producing 250W and gives a range of 50-60km per charge from its 48V, 28Ah with an Amaron Quanta VRLA (C20) battery pack. 
Features 
The electric scooter features a 10-inch wheel with a telescopic fork up front and a mono-shock at the rear. It has a disc brake upfront and a drum brake at the rear and a regenerative braking system. LED headlamps, DRLs and the instrument console is fully digital and gets remote lock/unlock, wheel lock, anti-theft alarm, as well as forward/reverse modes.
Okaya Power Group Managing Director Anil Gupta said, "Electric is the future and we find ourselves best placed to offer a high-quality, value for money proposition to every Indian. Owing to our allied business interests, it is only natural for us to have an advantage in the market space."
The company plans to roll out 14 new products this financial year and a high-speed electric motorcycle and specialized B2B vehicles. The Okaya electric scooter will be available in four variants and offered in a multitude of colours-White, Red, Blue to Black, Green, Brown, and Beige.
Also, read related article: Okaya Power bags World Bank fund contract from EESL for charging stations
If you are an EV manufacturer or EV Dealer or EV Supporter who want to share news related to electric vehicles on our website, please send an email to crm@electricvehicles.in

For the latest electric vehicles news, follow electricvehicles.in on Twitter, Instagram,Facebook and our YouTube Channels English, Hindi, Telugu and Tamil