Next Generation (Gen2) Race Car formula E electric vehicle (EV) has a big change in the battery capacity, it has almost doubled the battery from 28 kW to 54 kW. 
Next Gen Electric Race Car Formula E
with the updated features such as LED strip, titanium head protection Halo which glows in different colors depends on the racing mode of the driver selects to make themselves give unique identification to their fans.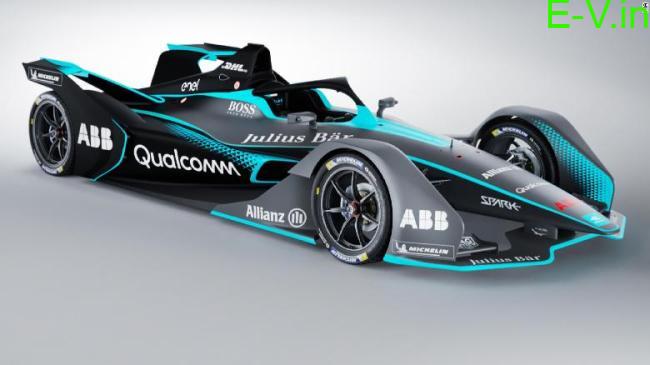 Next Gen Electric Race Car
Specifications 
This year, another big change is the battery capacity and almost doubled from 28 kW to 54 kW, this is a huge change. The batteries can be fully recharged in just 60 minutes.
The doubled battery capacity means the entire race can be completed without charging the cars in previous seasons (unlike formula 1, each race is of 45 mins, a lap to add an element of battery life to the competition.)
The Gen2 electric car provides a maximum power output is 200 kW during normal operations and up to 250 kW during the mode of boost.
The top speed is 280 km/h (174 mph), with the acceleration from 0–100 km/h in about three seconds.
Nearly after five years, the electric racing series Formula E made a hilarious debut. It was about to close on the fifth season but, this time it was also the first season with the Formula E to have a big change which is much faster and lasts longer.
The Gen2 design every part is redesigned to allow the drivers to maintain the grip when following other cars closely. A big underfloor diffuser is added to increase the downforce.
The rear wing will be small and front wheels have also partially enclosed to help to reduce the turbulence for cars behind.
Driving of an electric race car-skills 
While talking about the driving of a race car, it is all different then you imagined. The racers must have some special skills to drive it unlike traditional racing it is very different. For this race driver spent many hours in simulators to practice the different tracks and also to learn the best way to manage the available power and systems such as regenerative brakes.
De Silvestro, a Swiss race car driver said that "Formula E is really tricky because as a racing driver, you usually just go full tilt for the whole race, perhaps with a bit of tire management, but in Formula E, you have to manage the energy,"
she added, "You might feel like you can pass someone, but it might use too much energy, so you have to think a lot about the race and the strategy. Maybe you have to be a bit patient because you have to keep enough energy to manage until the end of the race — as a driver, that can be quite demanding!"