Hero e-US Ultra Sport Electric motorcycle
India's leading two-wheeler manufacturer Hero MotoCorp is developing a new premium electric motorcycle concept. This powerful electric motorcycle concept is developed by a Munich based HTCG is named as e-US which is electric Ultra Sport. Let us know more about Hero e-US Ultra Sport. 
Hero e-US Ultra Sport e-motorcycle
Hero Motocorp's chairman Pawan Munjal said in a latest Annual General Meeting that the company have started entering into the promise for bringing electric two-wheeler in the Indian market.
The pure electric products that are being developed by Hero Motocorp are independent of its subsidiary Ather Energy's products he added. The Hero Motocorp's Technology Center in Germany (HTCG) is currently collaborating with the two-wheeler giant's Jaipur R&D facility to develop this premium electric motorcycle concept.
This electric motorcycle will feature performance-oriented characteristics, it will have different drivetrains and range to match with the various need to make it more affordable electric motorcycle for the Indian market. The e.US will be manufactured in India and will have components from Hero's European suppliers. As of now, they haven't revealed its technical specifications.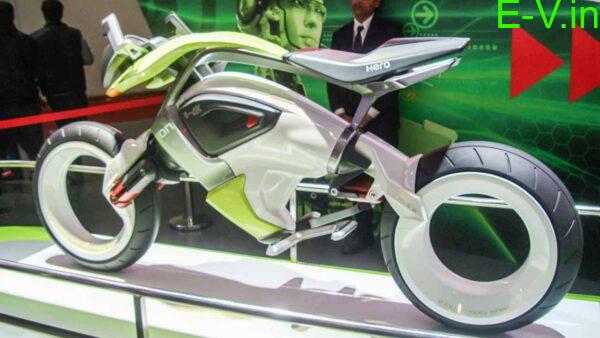 Recently, the Hero MotoCorp Chairman and Managing Director (MD), Pawan Munjal invested about $1 million in Ola Electric Mobility through his family trust. The Pawan Munjal is one of the foremost global corporate leaders and his Family Trust has been allotted a total of 18 preferences shares valuing each at a premium of Rs 39,87,608 and face value of Rs 10. Since a few months, the Ola electric mobility has been fundraising. It has raised funds from SoftBank and automakers Hyundai and Kia.
Ola electric mobility is running its pilot project in Nagpur, Gurugram and Bengaluru. Its competitor Uber is said to be planning to increase its electric fleet all over India.
Hero MotoCorp was also recently in news because of its electric concept "2 in 1" model which comes under the Hero MotoCorp's Hero Hatch Electric Modular Mobility. The interesting thing about this electric vehicle is that it can be used interchangeably as both two-wheeler and a three-wheeler and is for personal and commercial operations including e-commerce and deliveries as per the Motor Vehicles Act L5 for three-wheelers and L2 for two-wheelers.
If you are an EV manufacturer or EV Dealer or EV Supporter who want to share news related to electric vehicles on our website, please send an email to crm@electricvehicles.in