GoZero Mobility announced Roadside Assistance Programme in India
The UK based GoZero Mobility entered into the Indian market with the launch of its two electric-bike models One and Mile in 2019 and now it has introduced its 'Roadside Assistance Programme' for its consumers. To provide these benefits to the customers, the company has partnered with Global Assure, one of the leading Gurugram based assistance company.
GoZero Mobility has recently announced its investment of 17 Million GBP in India and the UK for the expansion of job creation. It is committed to bringing an eco-friendly and safer environment for its eBike consumers.
GoZero Mobility Roadside Assistance Programme includes 
The GoZero Roadside Assistance Programme includes breakdown support over the phone, emergency battery swapping facility, towing for accidental cases, medical assistance, towing eBikes in case of mechanical or electrical breakdown, message relay to relatives/colleagues/emergency numbers, hotel accommodation assistance, ambulance assistance, etc. The Roadside Assistance programme will be available all over India.
The GoZero eBikes customers will also be offered insurance benefits such as 24×7 phone support, ambulance referral, eBike theft insurance, eBike damage insurance from fire, ambulance referral, permanent disability/accidental death insurance of up to INR 2 lakhs.
Mr Ankit Kumar, CEO, GoZero Mobility said, "Owing to the pandemic there is a huge shift in the mindset of people towards healthy lifestyle and fitness which is fuelling the demand for electric bicycles aka eBikes and we have seen the sales of our eBikes surge in the month of May. On this day, while we celebrate World Bicycle Day, we are releasing the Roadside Assistance Programme for all our eBike consumers in an endeavour to make cycling/eBiking more safe & secure throughout India."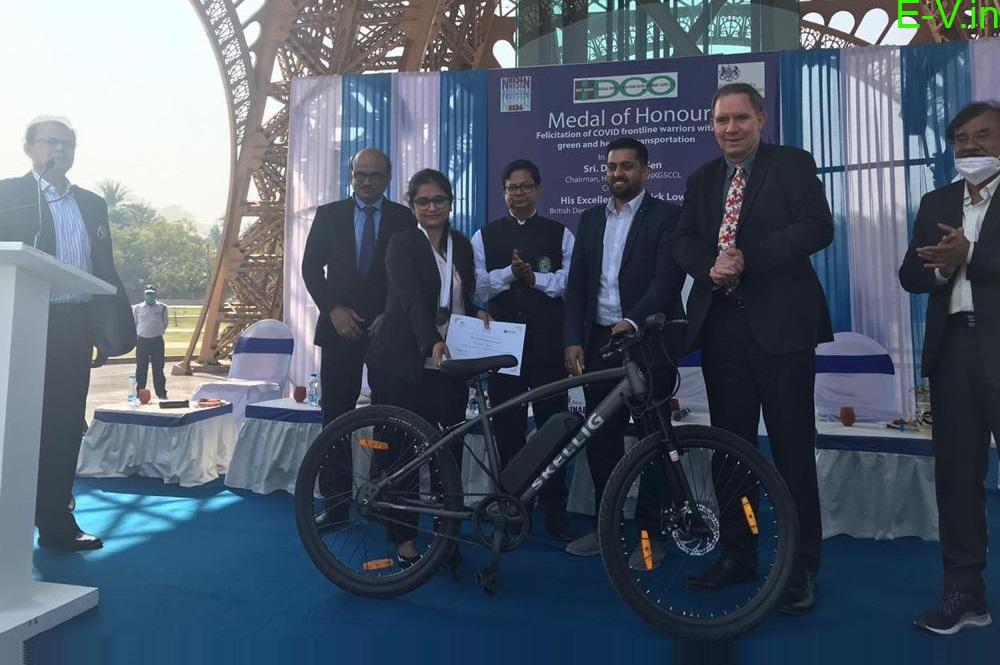 GoZero Mobility felicitated Covid warriors with e-bikes
Recently in February, the Housing Infrastructure Development Corporation (Hidco), the British deputy high commission and British performance electric bicycle maker GoZero Mobility felicitated Covid warriors with e-bikes at a ceremony organized at Eco Park. Hidco has already set up 17 km of cycle tracks in New Town and 400 e-bikes will be introduced in the township.
"E-cycles are the greener solution for New Town residents for last-mile connectivity," said Samaresh Das, chairperson of New Town Forum and News (NTFN), an NGO.
Mr Nick Low, British Deputy High Commissioner to Kolkata said, "I'm so pleased to be in New Town Eco Park with our friend Debashis Sen, Chairman-cum-Managing Director of HIDCO, to honour three of Newtown Kolkata's finest frontline heroes. The pandemic has been the worst of times but in Britain, in India and here in Kolkata it's brought out the very best in people. I salute and applaud the three brave and selfless COVID Warriors who have received their GoZero e-bikes today. I'm grateful to GoZero for donating these wonderful machines and am proud to have GoZero manufacturing here in Kolkata."
GoZero Mobility is a British performance electric bicycle maker with headquarters in Birmingham and a manufacturing base in Kolkata, present in over 60 cities in India with a 100+ retail network. The GoZero Ebikes are designed in the UK and are affordable, healthy and clean mode of transportation.
Model One & Model Mile
Model One is powered with a 400 watt-hour lithium-ion battery pack which provides a range of 60 km on a single charge. Whereas model Mile is powered with a 300 watt-hour lithium-ion battery pack that offers a range of 45-km range.
"Both the products, One and Mile, are only meant for India, Africa and South-East Asia. We anticipate to sell 3,000 units in the first year and scale up to 75,000 in the next five years," said Ankit Kumar, chief executive officer, GoZero Mobility.
Also, read the related article: Top 10 electric bicycles
If you are an EV manufacturer or EV Dealer or EV Supporter who want to share news related to electric vehicles on our website, please send an email to [email protected]

For the latest electric vehicles news, follow electricvehicles.in on Twitter, Instagram,Facebook and our YouTube Channels English, Hindi, Telugu and Tamil