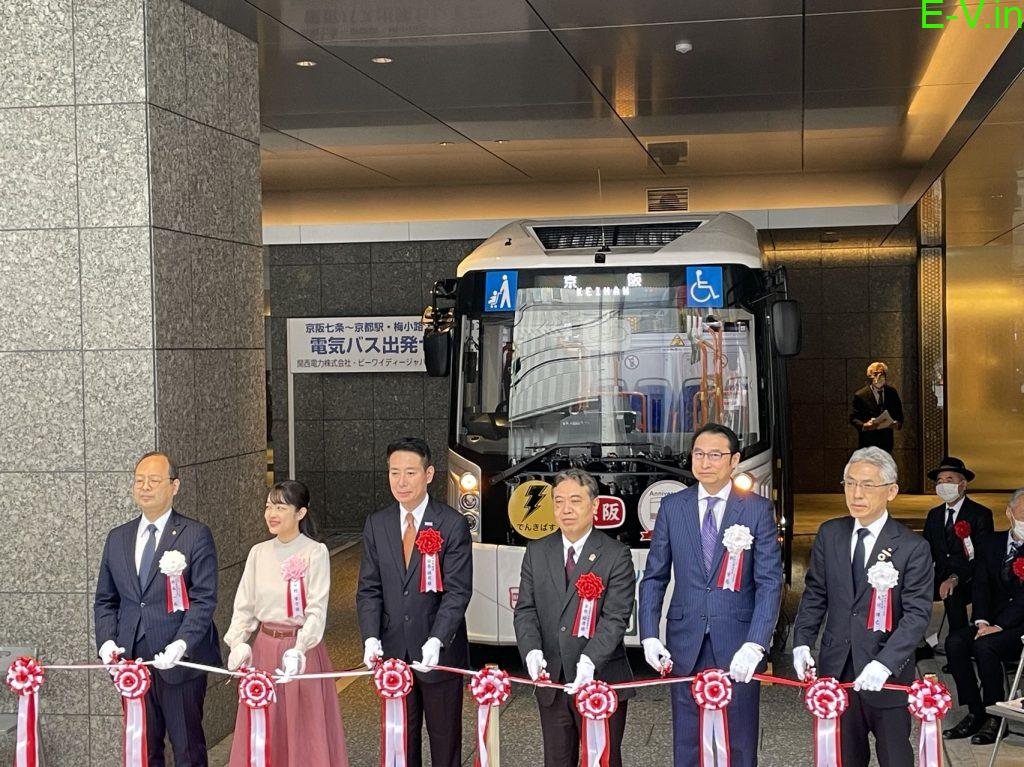 BYD J6 in Japan's first all-electric public transit loop line
Recently, BYD, Keihan Bus Co., and Kansai Electric Power Co., Inc. announced that they had put 4 BYD J6 electric buses into service on Japan's first all-electric public transit loop.
Keihan Bus and Kansai Electric Power plan to conduct a five-year demonstration operation with the first batch of four BYD J6 buses on Kyoto's famous sightseeing bus line.
The loop line serves key tourist attractions such as the Kyoto Railway Museum and Kyoto Aquarium. The bus line increases the convenience for residents and visitors, which has been widely acclaimed since it was put into service.
BYD J6 electric buses
The J6 electric bus made by BYD can carry up to 29 people and achieve fast charging within 3 hours for a range up to 90 miles. These electric buses can also serve as emergency power supplies in an emergency.
"By introducing electric buses, we will provide safer and environmentally friendly public transportation services," said Suzuki Kazuya, President, Representative Director of Keihan Bus. "In the future, we will continue to optimize the cruising range and charging time to face the global warming issues positively."
Okawa Hiromi, Managing Executive Officer of Kansai Electric Power, said his company is responsible for optimizing the operation of electric buses and the energy charging and discharging management. Hiromi said his company has set a goal of being carbon neutral by 2050.
Liu Xueliang, the General Manager of BYD Asia Pacific Auto Sales Division, said: "In Japan, BYD's electric buses have travelled approximately 2.4 million kilometres (nearly 1.5 million miles) since the first one was delivered here in Kyoto in 2015. I believe that the realization of a decarbonized society and carbon neutrality, the electrification of automobiles, and renewable energy initiatives in the future are not projects that can be carried out by one individual, one company, or one country alone, but need to work together."
With reliable product quality and proven after-sales service, the BYD K9 buses have won trust in the market since they successfully entered Japan after becoming operational in Kyoto in 2015. BYD now holds the largest share of the Japanese electric bus market. In the future, BYD will continue contributing to Japan's goal of achieving carbon neutrality by 2050 by providing people with eco-friendly, clean, safe, comfortable mobility.
Also, read the related article: BYD ETM6 electric trucks to deliver IKEA products in the Netherlands
If you are an EV manufacturer or EV Dealer or EV Supporter who want to share news related to Electric vehicles on our website, please send an email to crm@electricvehicles.in

For the latest electric vehicles news, follow electricvehicles. in on Twitter, Instagram, Facebook and our YouTube Channels English, Hindi, Telugu and Tamil