As electric vehicles are growing in India there will be a need for fast charging stations. For all the people who are worrying about the charging facilities for their EVs. Here is good news for them. Tata will set up 2,700 Fast Charging Stations In India.
2,700 Fast Charging Stations by Tata 
AutoComp Systems
Tata AutoComp Systems, a subsidiary of Tata Group had made an announcement that it had signed a Memorandum of Understanding (MoU) with Australia-based Tritium. The Indian firm will bring in the Tritium's Veefil-RT 50kW DC fast chargers to India.
Tata AutoComp Systems Partnership With Tritium
As the Tata Motors to roll out EVs in all forms in coming years. Tritium as a partner with Tata AutoComp Systems is the right decision made by the company.
Tritium Installed DC Fast Chargers In 26 Countries
The Tritium till now installed its DC fast chargers in 26 countries. It had signed a big deal to supply Veefil-PK HPC systems to IONITY network.
Tritium Offers Veefil RT – a 50kW DC Fast Charger & Veefil PK High Power Charger 
Tritium currently has two different charging stations Veefil RT – a 50kW DC Fast Charger and Veefil PK high power charging station.
Features
Features of 50kW are its liquid cooling and Veefil PK offers up to 920 V at 500 A power. Both the chargers can work for a range of -35 to 50 degree Celsius.
Tata AutoComp Systems will bring Veefil RT charger to India. As the government recently announced the FAME Scheme which states to incentivize the EV makers in the country as well as the buyers of such vehicles for the adoption of EVs in India.
The Scheme also included to set up 2,700 charging stations at government offices and corporations all over India.
Veefil RT 50KW DC FAST CHARGER
Features 
Slim compact and stylish

OCPP Integration

Less Installation cost

Small footprint can be easily installed anywhere

Its liquid cooled

Suitable in all weather conditions and locations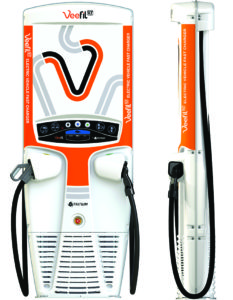 Exterior can be customized
Durable UV resistant exterior
Specifications Of Veefil RT 50KW DC Fast Charger 
Power- up to 50kW

Supply input- 380-480 V AC30

Supply Frequency- 50-60 Hz

Operating Temperature- -35 to 50 degree Celsius

Network Connection-3G and Gigabit Ethernet

Electrical protection- Short circuit; Overvoltage: RCD

DImensions2000(H) x 750(W) x 330(D) mm

Freight-24 units per 20' container

Weight-165 kg