If you look at the pollution both air and sound created by the vehicles, 9 out of every 10 people in the world suffer from the high level of pollutants and 7 million people die every year. The major air pollutes by the vehicles, it emits a huge amount of CO2 in the air. By using EVs the emission can be reduced in the country. Electric Public Transportation.
For Any Query Regarding EV Click Here 
Electric Public Transportation
Converting conventional fuel vehicles (gasoline/ diesel/ CNG) into electric vehicles needs a lot of R&D efforts, cost of infrastructure. It will take more efforts from central and state governments. Either the EV policy can be imposed on commercial vehicles like buses.
On a daily basis, a bus might run around 200 km and can be charged using charging station installed in the depot itself. Government is impressed much with the electric buses for its potential and wants as much as electric buses on roads.
Green Urban Transport Scheme (GUTS) was recently launched by the Ministry of Urban Development of the country for the reduction of carbon emissions from the public transport vehicles in the country. INR 250 billion was proposed by the ministry to develop EVs for public transportation.
State Governments- Electric Public Transportation
Many State governments are in support of electrifying public transportation. Electric bus manufacturers Ashok Leyland, Goldstone Infratech, Tata Motors, JBM Auto, Solaris, BYD have commenced their work with various state governments to electrify.
There have been trials already started in some cities such as New Delhi, Lucknow, Sabarimala, Manali, Dehradun, Hyderabad.
Electric Public Transportation In Cities
New Delhi, Delhi- Bus supplier- Olectra-BYD, JBM-Solaris
The State Government trails the Olectra-BYD's 12 Meter E-bus. eBuzz K9 with a 35+1 (Driver) seating capacity. It runs on the route number 534 between Anand Vihar ISBT to Mehrauli Terminal. The trails will be 3 months in the city.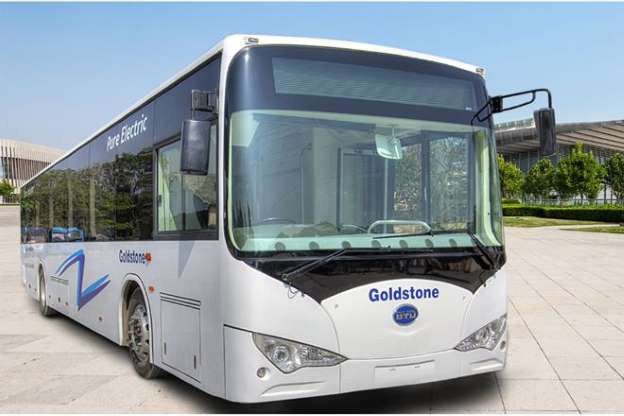 JBM Solaris Electric Vehicles Ltd's, 100% electric bus Eco-Life is on a trial run in Delhi.
This vehicle can save 1000 tons of carbon dioxide and 350,000 liters of diesel over 10 years of function. Fast charging system which can run 150-200 km in 10-15 hours.




Lucknow, Uttar Pradesh- Bus Supplier – Tata Motors
Tata Motors to supply 40 units of the Ultra 9m AC Electric buses to the Lucknow City. It gives the range of up to 150 kilometers on a single charge. It has installed a charging station at the Alambagh depot for fast charging of buses.
Sabarimala, Kerala- Supplier – Olectra-BYD
The pilgrims can travel in a zero-emission electric bus from Olectra BYD.
The 9-meter air-conditioned low floor buses have a capacity of 32+1 (driver) and have a range of 250 km in a single charge. The high-power AC charging system enables the battery to get fully recharged in between 2-3 hours.
Manali, Himachal Pradesh- Supplier – Olectra-BYD
The 25+1 seater Goldstone eBuzz K7 will ply between the Kullu-Manali-Rohtang Pass.
Dehradun, Uttrakhand- Supplier – Olectra-BYD




EV manufacturer will sign an agreement with the Uttrakhand government to deploy 500 AC Electric Buses in the state with an investment of Rs 700 crore. As per the pact, Hyderabad based Olectra Greentech in a strategic tie-up with China's BYD Auto Industry will deploy the Made in India' eBuzz K7 (9 meters) and eBuzz K9 (12 meters) electric buses in the state.
Hyderabad, Telangana, Supplier – Olectra-BYD
Olectra-BYD started commercial operations of eBuzz K9 eBus under the Telangana State Road Transport Corporation (TSRTC). The Department of Heavy Industry, under the Faster Adoption and Manufacturing of Hybrid and Electric vehicles in India (FAME-I) scheme, has provided a subsidy of Rs 1 crore for each bus to Telangana. The 12-meter air-conditioned low floor bus has a capacity of 39+1 seats.
If you are an EV manufacturer or EV Dealer or EV Supporter who want to share news related to electric vehicles on our website, please send an email to crm@electricvehicles.in

For any promotions and advertisements on electricvehicles.in, please send an email to support@electricvehicles.in