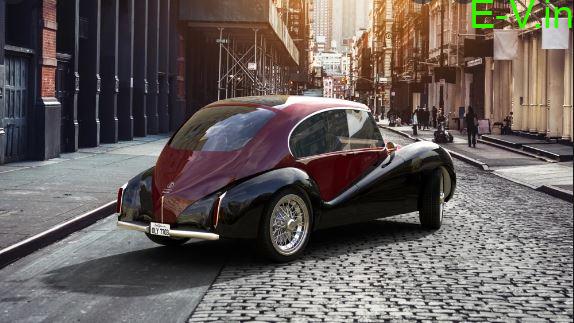 Olympian Motors is making old-style cars into Electric cars as we all know till today everyone is passionate about buying a classic model but due to limited production, they cant people cant make their dream true.
and we all know classic models cars ruled the Automobile industry in old days.
Now Olympian Motors Electric car create the same impact on Electric cars. And the new invention of Olympian Motors is Olympian Motors 01 EV the vehicle comes with an 82 kWh battery pack and the range is all about 490 km per single charge.
Olympian Motor Electric car is designed to increase impact protection and keep the passengers and drivers secure. The optimal scenario is to avoid accidents. Hence, the automakers strategically positioned the battery pack to improve handling. However, in case of a crash, the frame offers solid structural rigidity, as it is made of military-grade carbon fiber and titanium.
Additionally, the cabin features up to nine airbags and can accommodate two car seats with anchors in the rear, while the glass canopy and windows are laminated, providing high resistance.
Olympian motors Electric car Driving us some decades back and offer tranquility and security, Aesthetics and design over horsepower, Superior user experience over-torque, AR HUD over tablet display screen, Sustainable and recyclable materials over industrial plastic and toxic chemicals.
Olympian Motors Electric car O1 cabin comes without a digital cluster which shows the EV company wants to maintain the old style as it is, and they replace the windshield with display screens, and they removed 80 percent of buttons and switches and they designed the Electric car with voice modulation that means can control the car with voice command.
Though the Ev company is yet to provide a production date for its first new electric car, However, the O1 Ev has been priced at 100,000 USD, and currently the company has reported and also taking 500 USD as the pre-booking amount.
If you are an EV manufacturer (or) EV Dealer (or) EV Supporter who want to share news related to Electric vehicles on our website, please send an email to crm@electricvehicles.in
For the latest electric vehicles news,
follow electricvehicles.in on 
and our YouTube Channels