Highlights
Introduced five new electric SUVs under sub brands XUV and BE

The new INGLO modular platform with battery 60 to 80kWh capacities developed by Volkswagen

The Indian market would be the first to receive the first four EVs between 2024 and 2026
Upcoming Electric Cars
Mahindra & Mahindra rolled out its new generation electric vehicles at Mahindra EV Fashion Festival in Hyderabad on Feb 10, 2023. The automaker has showcased its new five electric cars under the two sub-brands exclusive XUV – XUV.e8, XUV.e9, and born electric BE – BE.05, BE.07, and BE.09.
Mahindra's Electric XUV Brand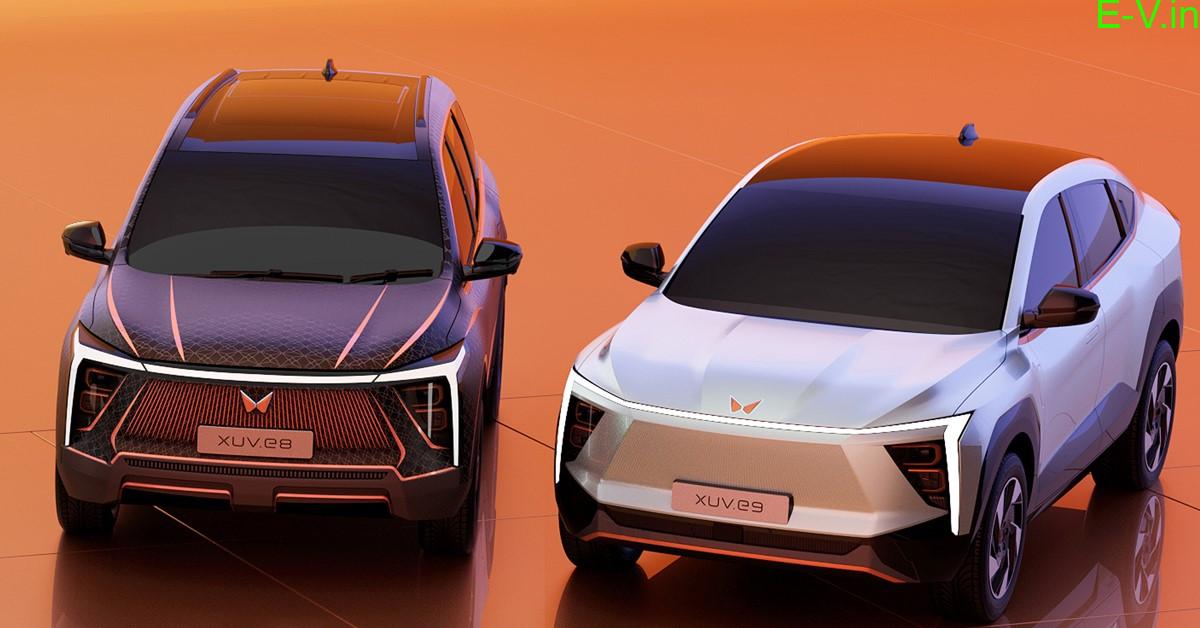 The XUV.e8 is an electric version of XUV700, 4740 mm long, 1900 mm wide, 1760 mm tall, and has a wheelbase of 2762 mm. The XUV.e9 has a bold, innovative design, 4790 mm long, 1905 mm wide, 1690 mm tall, and has a wheelbase of 2775 mm. It will have a big sky roof with a panoramic view and a wide range of high-tech features with luxurious interiors. In India, XUV.e9 was revealed in the presence of Disha Patani, a bollywood star.
Mahindra's Electric BE Brand
On the eve of India's first-ever Formula E race in Hyderabad, Mahindra debuted the BE Rall-E electric SUV live for the first time on the floor.
BE.05 a Sports Electric Vehicle (SEV), has a wheelbase of 2775 mm and measures 4370 mm long, 1900 mm wide, and 1635 mm height. Bollywood star Vicky Kaushal revealed this BE.05 vehicle.
The expected arrival date for BE.O7 is October 2026. The SUV is a four seater with 4565 mm long, 1900 mm wide, and 1660 mm tall, with a wheelbase of 2775 mm. The BE.09 is an electric four-wheeler, and further details are not revealed.
With New INGLO EV Platform
The new INGLO EV platform – a lightweight modular electric skateboard developed by Volkswagen so that the floorboard houses the battery pack and the wheels mounted at the corners. By the end of 2024, it will support a new line-up of EVs from the domestic manufacturer.
To be safer than NMC-based cells, the innovative blade and prismatic cell architecture used a standard battery pack design equipped with LFP lithium-ion cells.
The SUV's batteries range in capacity from 60 to 80 kWh, and they can be charged quickly at 175 kW for an 80 percent charge in under 30 minutes. According to Mahindra, the WLTP cycle would allow the 80kWh battery to provide a driving range of up to 450 km.
The platform features an all-wheel drive with an output of 395PS of power and rear-drive powertrains with up to 230–285PS. For the EVs built on this platform, Mahindra promises a 0-100km h speed of 5 to 6 seconds. According to the announcement, the front motor of the e-SUV provides 109 horsepower and 135 pound-feet of torque, while the rear motors will generate 286 horsepower and 560 pound-feet of torque. Mahindra also states that its sprint time from 0 to 100 kilometers per hour is between 5 and 6 seconds.
Dr. Anish Shah, managing director & CEO of Mahindra Group said, "Mahindra will offer customers future-ready technology, head-turning design, world-class products, and the benefits of global partnerships. By 2027, we expect that a quarter of the SUVs we sell will be electric."
If you are an EV manufacturer (or) EV Dealer (or) EV Supporter who want to share news related to electric vehicles on our website, please send an email to crm@electricvehicles.in
For the latest electric vehicles news,
follow electricvehicles.in on 
and our YouTube Channels