India's agriculture sector will benefit from technology harnessed by Bangalore-based Bullwork Mobility. A tractor and a sprayer are two of the products the company has developed to reach this goal. Hemanth Kumar, Bullwork Mobility CEO, answers EVreporter's Q&A session about the challenges in Indian agriculture and how Bullwork's product development helps solve those challenges.
During the interview, he discussed the fundamental issues faced by Indian farmers for the company looking to provide solutions to those issues. He responded to the question that agricultural equipment operation costs are high, mechanization is low, and labor is available in limited amounts. Two of the most common agricultural machines – tractors and sprayers – were discussed specifically.
Based on Hemanth Kumar's remarks regarding tractors
Small-scale farmers face significant upfront costs when purchasing tractors. In addition to the tractor, implements and accessories are included in the initial expenditure. The cost of owning a tractor does not only include the purchase price, but also requires periodic maintenance, fuel, and part replacements. To operate the vehicle, three to four liters of diesel are required every hour. Purchasing a tractor requires an investment of approximately INR 8-9 lakhs. To keep the machine running, they must spend another INR 3-4 Lakh each year on diesel.
Furthermore, the vehicle has an inherent offline capability. The number of deployments, the number of users, the area covered, etc., are not available. Due to the nature of the machine, loT modules have limited capabilities even though the recent trend has been adding loT modules to existing tractors.
When it comes to tractors, he explained how electrification can help. Agricultural practices can be disrupted by electric tractors, he says. Electric tractors are remarkably cheap to operate, which is their most significant advantage. In comparison to traditional diesel tractors, electric tractors can cost up to three times less to operate. Furthermore, up to 10 kilograms of CO2 will be offset for every hour of running.
For this system to succeed, a tractor's powertrain needs to be redesigned from scratch to be efficient. When dealing with limited energy on board, these vehicles need to squeeze every drop out of their batteries. There is no point in retrofitting existing platforms.
He says that their solution is different from other electric tractor companies since they are not merely retrofitting existing machines but are designing from the ground up to meet the needs of Indian agriculture. Precision farming, electric power, and autonomous technology are their main focuses.
They define Precision Farming as creating electric and smart farming equipment and analyzing and collecting data. In addition to gathering soil health data, their machines are outfitted with sensors. The data collected from this process is then used for precision agriculture.
From irrigation to pest control, farmers can make informed decisions based on real-time insights into their crops. A company's vehicles can identify plants, predict yields, and monitor their health. Through these data-driven precision-based practices, farmers can maximize their yields, reduce waste, and optimize their practices.
Electric tractors from Bullwork Mobility: specifications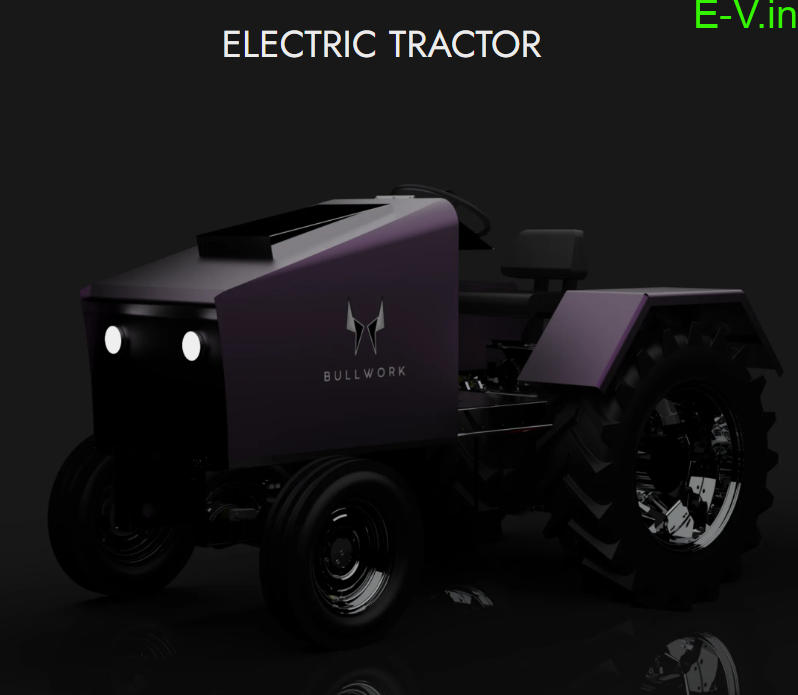 Agricultural tasks can be handled by bullwork tractors, which have a horsepower range of 35-50. Compared with traditional diesel tractors, the operating costs are reduced significantly. Electric tractors cost only 50-70 rupees per hour to operate, compared to traditional tractors which cost around 400 rupees. Farmers, especially smallholders, need to save on this kind of cost.
This tractor features the latest ADDC (Automatic Depth and Draft Control) technology that allows the farmer to use the implements in an easy and precise manner. In addition to the PTO (Power Take-Off), the machine can also run existing tractors with attachments.
The prototype of the company is ready at present. It is expected that the tractor will be soft-launched by the end of this year and that the approval process will follow shortly thereafter. The delivery process will begin in the middle of 2024. Although the pricing may change as the scale increases, INR 12 lakhs is a ballpark estimate.
Based on the remarks made by Hemanth Kumar regarding sprayers
Hemanth Kumar has explained to Sprayers what challenges farmers face when it comes to spraying. The spraying of crops is a crucial but resource-intensive process. Yet, when it comes to mechanization in agriculture, people think only of tractors. India is predominantly a labor-intensive country when it comes to plant spraying. It is physically demanding, time-consuming, and less precise to spray smallholder crops using manual methods. In addition, finding skilled labor is a constant challenge, particularly during peak spraying seasons. As well as being a slow process, spraying also has an adverse impact on the health of the person doing it.
Pesticides are one of the most frequently used chemicals in India. It is important to note, however, that pesticides are often used excessively and indiscriminately. It is common for farmers to overuse, apply these chemicals incorrectly, and damage their crops as a result because they do not have proper training or awareness about their judicious use. Especially in remote and economically disadvantaged regions, access to modern spraying equipment, including mechanized sprayers and drones, remains limited. Small-scale farmers face significant barriers due to the high cost of such technology. As a result of soil contamination and pesticide resistance, water and soil sources become contaminated.
An automated vehicle capable of delivering the correct amount of pesticides, herbicides, nutrients, and fertilizers quickly and cheaply would be the solution to this problem. By removing humans from the area of sprays, electric boom sprayers can accomplish this activity at a fraction of the cost.
He then explained Bullwork's solution for spraying following an explanation of farmers' challenges. A fully electric high-clearance boom sprayer – Warrior – has been developed for agricultural use for the first time. It offers farmers an efficient and effective way to care for their crops while reducing their environmental impact.
Currently, the sprayer is in production, and deliveries are expected to begin around February 2024. It is estimated that the sprayer will cost around 15 lakhs.
 Source of information: EVreporter
If you are an EV manufacturer (or) EV Dealer (or) EV Supporter who want to share news related to electric vehicles on our website, please send an email to crm@electricvehicles.in

For the latest electric vehicles news,

follow electricvehicles.in on 

and our YouTube Channels